Twin Mom Seal of Approval
Approved Sites & Blogs

Twins Doctor
TwinsDoctor.com is the first physician-authored website with health information exclusively for multiples. Founded in 2007, the site is hosted by Dr. Khanh-Van Le-Bucklin: a pediatrician, mother of twins, and author of "
Twins 101: 50 Must-Have Tips for Pregnancy through Early Childhood from Doctor M.O.M.
".
Read our
Twins 101 book review
.
And Twins Make 5!
Reviews and insights from a mommy of 5 including twins.
SigningFamilies.com
This is an instructional sign language company owned by Louise Masin Sattler, a School Psychologist with over two decades of Sign Language instructional experience. Sign language is a wonderful way to communicate with twins, especially those that have some language development delays. Be sure to contact Louise via her site for more information.
Trends In Twos™
- the boutique for twins and their families!
Just Multiples
JustMultiples.com is a retail shop that sells exclusively to the multiples market. They offer many products that help to simlify the "multi-tasking" experience.
The Baby Dipper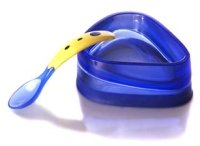 Invented by Barbara Schantz, a mom of
two
sets of twins, The Baby Dipper bowl makes mealtime a fun and clean experience for all! Parents can use their free hand to clean or entertain baby, or to keep baby's hands out of the bowl. Toddlers can see through the transparent sides of the bowl and concentrate on getting the food onto their spoons and into their mouths.
Baby Banz Inc.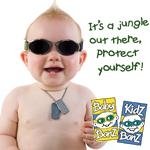 Baby Banz is proud to be the first complete infant and child UV apparel and eyewear manufacturer to be endorsed by the Melanoma International Foundation. Baby Banz products have been recognized for the outstanding protection and UV damage prevention all of our products offer children ages 0-10.
Stuff 4 Multiples
Stuff4Multiples.com offers clever clothing and gear for families with multiples.