Hi



Welcome to another issue of the Twin Stuff! newsletter!

April 2016 ~ Issue #038
Twins in the Classroom...
We have covered this hot topic before, but it's always a concern for any parent with school age twins.

Should they be placed together or separately in the classroom and who's choice should it be? Parents or school officials? The twins themselves?

Over the years I have found that most parents agree it should be left up to them to decide what will work best for their own children - twins or not!

This is mainly because all twin pairs don't just fit into a one size fits all category.

From a psychological standpoint, there have really been no studies or other research that show a benefit to separating all twins in school.

Now, that's not to say that some twins won't benefit from being separated, just that not ALL pairs will.

Twins are individuals just like anyone else and decisions regarding classroom placement should include lots of factors.

It's ideal when the parents and the school can work together to find the placement that will work best.

Some twins are ready to separate early on and some suffer greatly from early separation. Some do better and even excel when they are not with their twin in the same class.

Older twins and especially boy/girl pairs often ask to be in different classes as they embrace different interest and/or friends.

More and more states have adopted the Twins Law regarding who makes the choice in classroom placement.

Read More About the Twins Law and Take Our Poll!...
---
Get Free Pregnancy Stuff
! Expecting Twins? Get Free Magazines, Diaper Samples, Coupons and More at Babies Online!
---
---
Personalized Items for Twins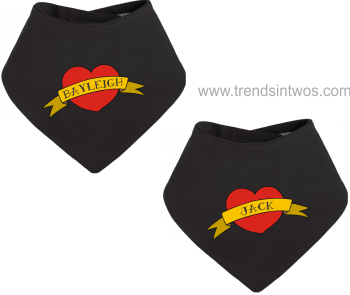 Be sure to head on over to our sister-site, Trends In Twos™ to see what you can get personalized for your twins.

We offer cute bibs, shirts, toys, and even a special necklace for the new twin mom!

We will be adding lots more new stuff this season, so be sure to check in and take a gander at our new designs made just for your little duo!

Shop Personalized Stuff Now!
---
TwoCute™ Twins Contest Winner!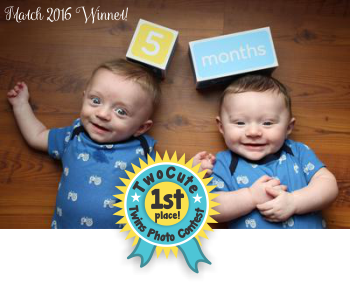 Here's our latest TwoCute™ contest winner...

We totally enjoyed the creative use of blocks to take an age photo...and who could resist those smiles?!

Now taking entries for April

The winner will receive a $10 Gift Certificate to Trends In Twos™

We just love seeing all of your entries every month...It's always hard to choose a winner with so many adorable twins out there. Keep up the good work parents!





---
Quick Links!

Twin Pregnancy And Beyond™ | Double Duty Log Book for Twins | Shop For Twins at Trends In Twos™
---
Thanks for taking the time to read Twin Stuff!
Until next time....
All the best, Kellie Asaro (site founder and Mom of twins)