Hi



Welcome to another issue of the Twin Stuff! newsletter!

March 2016 ~ Issue #037
Preparing for Twins
TWO babies are on the way! Are you prepared?

When parents are faced with a twin pregnancy they often want advice on how to plan and prepare for the eventual arrival of their twin bundles of joy.

And trust me, it will be a lot different than planning for a single baby.

You probably already figured you would need twice the diapers, clothing, bottles, etc. But, our article covers all of the essentials along with some other thoughts on what you will need (or won't need!).

There will be lots of considerations from budget to space, so you don't necessarily need to go out and buy the whole ranch, so to speak. Read more...
---
Get Free Pregnancy Stuff
! Expecting A Baby or
Babies
? Get Free Magazines, Diaper Samples, Coupons and More at Babies Online!
---
Twin Nursery Ideas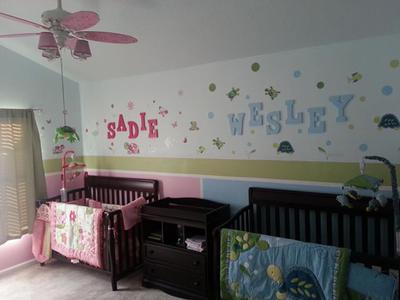 Planning a nursery for your twins will be a lot of fun. There's just so many creative possibilities!

I know many of you will decide NOT to find out what you're having and so will need to plan a gender neutral theme, but there's still lots of options and ideas in this situation.

Heck, many parents go with a neutral theme even when they know they are having girls or boys. In any case, we have a great list of ideas to help get you started. Check out Twin Nursery Themes...

In our gallery section we encourage you to post your own fabulous and unique twin nursery photos and ideas.

There's already some pretty great ones to view even if you don't want to share anything yourself... Head on over to the Twin Nursery Gallery!






---
Prince Charming & Little Princess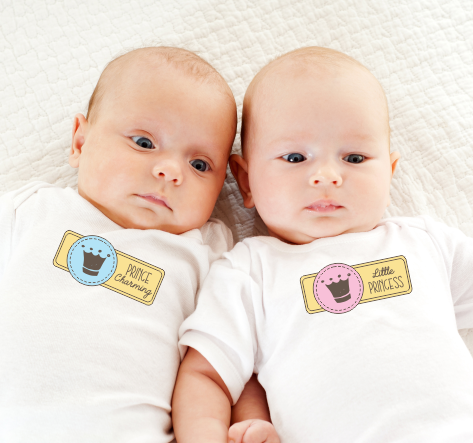 It's the latest and greatest from our sister-site, Trends In Twos™!
How adorable are these for boy and girl twin pairs?
The soft pink and blue with the cute little crowns and lettering make these just right for your Prince and Princess!
Just click on our little cuties above to shop now!






---
TwoCute™ Twins Contest Winner!
Here's our latest TwoCute™ contest winner...

This brother and sister pair hanging out in the barn are truly TWO CUTE with their bright eyes and mischievous smiles!

Now taking entries for March

February's winner will receive a $10 Gift Certificate to Trends In Twos™

We just love seeing all of your entries every month...It's always hard to choose a winner with so many adorable twins out there. Keep up the good work parents!













---
---
Quick Links!

Twin Pregnancy And Beyond™ | Double Duty Log Book for Twins | Shop For Twins at Trends In Twos™
---
Thanks for taking the time to read Twin Stuff!
Until next time....
All the best, Kellie Asaro (site founder and Mom of twins)