Hi



Welcome to the November 2016 issue of the Twin Stuff! newsletter!

In This Issue:

Would You Use This?

TwoCute™ February Contest Winner!
---
Would You Use This?
Well, you all know I like to stay on top of new products that hit the market for parents of twins. It's funny how much new stuff has been invented since my own twins were born over 10 years ago. Boy, how much easier life would have been for me when they were babies and toddlers if these things were around. I managed, of course...we all do! But, I still like to stay in-the-know and I think you do too...

The latest invention is called the Romp & Roost play yard. It's unique because it is larger than your average play yard and also because it has a removable divider. It can be used for twins or any two babies/toddlers of different ages. I like this concept because it has longevity. You could be using this play yard through the toddler years with twins. That's economical! Learn more about the Romp & Roost at Trends In Twos
---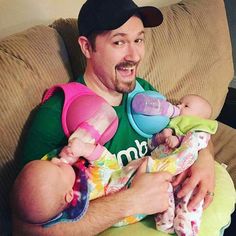 Next up, the Beebo - a better way to bottle feed.

So, I have to say that I just found this image randomly on the web...Thank you, awesome dad of twins, whoever you are!

Anyhow, the picture kind of speaks for itself. Lots of parents will bottle feed their twins, but how about doing it hands-free?! The Beebo is made of soft foam and it actually rotates so the bottle can be turned up or down. Plus, it's super easy to clean.

Some moms have noted that this was a great way to transition from breastfeeding to bottle feeding because of the ergonomic design.

Even if you decide to just feed one baby at a time, the Beebo still allows for a free hand to do other things...we could ALL use a free hand when raising twins! Learn more about the Beebo at Trends In Twos
---
TwoCute™ Twins Contest Winner!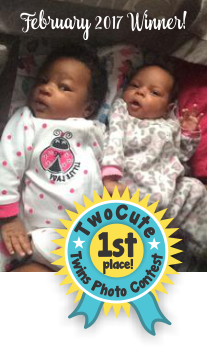 Here's our TwoCute™ February contest winner...

Now taking entries for March

The winner will receive a $10 Gift Certificate to Trends In Twos™

We just love seeing all of your entries every month...It's always hard to choose a winner with so many adorable twins out there. Keep up the good work parents!














---
Quick Links!

Twin Pregnancy And Beyond™ | Double Duty Log Book for Twins | Shop For Twins at Trends In Twos™
---
---
Thanks for taking the time to read Twin Stuff!
Until next time....
All the best, Kellie Asaro (site founder and Mom of twins)