Hi



As always, I like to use this newsletter as a way to keep you all informed about new articles and what-not on the site that I think you may find helpful and/or interesting, as well as introduce you to a new "Featured Mom". Short and sweet is sort of how I like to think of it. I always try to consider the fact that time is precious, especially for those of us raising twins...or more. I sincerely appreciate all of you readers and hope you enjoy this month's Twin Stuff!

---
February 1, 2009 ~ Issue #005

~ TABLE OF CONTENTS ~


New Stuff On The Site
"Two Cute" Twin Photo Contest
Twin Gift Baskets
Valentine's Day For Twins
Featured Mom
---
New Stuff On The Site
Video Galleries
This new section is really cool. I have compiled a few interesting libraries of videos pertaining to twins. So far you can browse:

Funniest Twins
See our first place winner for our Funniest Twins Videos contest French Fries At 10:00 PM, as well as some other silly submissions. You can even submit your own video if you feel like sharing!


Premature Twins
Anyone who has had preemie twins can tell you it's not an easy process. For those of you who are newly pregnant with twins, these videos are good way to prepare for the possibility of a premature birth and stay in the NICU through the very personal stories of other families.


Twins In The Womb
This amazing series from the National Geographic Channel is a must see for anyone expecting twins! If you don't get the channel, you can always order them on DVD. One of their representitives sent me a pre-screening of the newest addition, In The Womb - Identical Twins before it premiered last December. I have to say, it was especially intriguing, as I have identical twins myself. All of the new scientific findings were definitely worth pondering.


Twin Birth
I have had this section for a while, but now it's easier to find. This is another helpful way to get prepared for twin birth. The videos give you a pretty good idea about what may go on during labor and delivery along with some of the emotions that the parents experience. And, if you've already had your twins, it really takes you back.


I'm going to try and expand on these galleries and add more sections along the way as I find videos of interest.
IVF And Twins
Be sure to read this ineresting article on the process of IVF and a resulting twin pregnancy. Written by a mom of twins who also happens to be an M.D., you'll get the science as well as her honest, personal take. She'll also be our featured mom in May's issue of Twin Stuff!


---
"Two Cute" Twins Photo Contest



I've been wanting to do this one for a while. As most of you already know, I like to offer fun contests that are completely twin related. I have always thought this was a cool way to narrow the playing field for parents of twins and give away neat prizes! So, this new "Two Cute" Twins Photo Contest will be going on until March 15th and already has some really charming submissions. Remember, it's fun, easy and free...enter your cute twins photo and you might win!


---
Twin Gift Baskets & A New Look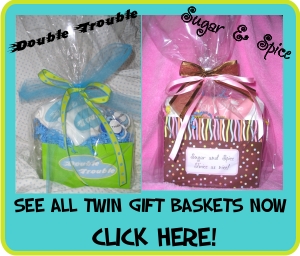 If you haven't already, be sure to visit Trends In Twos. I usually refer to it as "our sister site", but it's truly my personal creative outlet! I not only gave it nice fresh look for 2009, but I added some really sweet Twin Gift Baskets!

After several web searches for twin gift baskets, I found that there are few choices and they're all pretty pricey. I wanted to offer unique, twin specific gift baskets at reasonable prices. Most of these baskets are only $29.99! Perfect to give to the new parents of twins, as a shower gift, or even birthday gift for twins. And, I'm always happy to hear your suggestions, so be sure to Contact Me and let me know your thoughts. I'm always open to custom orders too!



---
Valentine's Day For Twins



Check out our section at CafePress for some great Twins Valentine's Day items! Cards, mugs, t-shirts and more...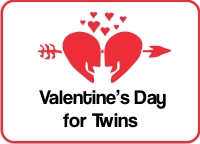 ---
A Special Note

I forgot to add this wonderful photo of last month's featured mom and her beautiful family...sorry Stacey :-) This is Stacey Hill (UniquelyAlikeMultiples.com) with her husband and twin daughters.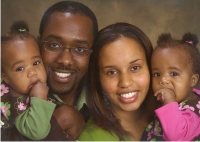 ---
Featured Mom ~ Stacey Vandell
(yes, it's another Stacey...lol!)
This month's featured mom has developed a very advantageous web store for parents of twins or more. She's truly warm hearted and always puts her customer's needs first...

1) WHAT IS YOUR BUSINESS?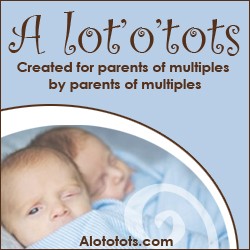 A lot'o'tots (www.alototots.com) is a web-based retailer that caters specifically to parents of multiples. We offer medium to high end products and give you an automatic discount when you purchase one or more of the same item type. When we say "item type" we mean you still get a discount if you purchase different colors, styles and sizes (we know that not all parents want to have their twins match AND we know that not all twins are the same size/sex). Our business is family owned and operated out of Sammamish and Ridgefield, WA.
We also offer in home personal shopping for moms who are on bed rest or who have just delivered and are not ready to venture out with their new crew. We bring anything they are interested in from our store, show them the merchandise and then leave them with a list if they want to decide to order something from us.
Last but not least, we give back to people in need. We donate cash and goods to organizations such as the Fetal Hope Organization which benefits TTTS awareness, we sponsor a new family in need every quarter , plus we also donate to moms clubs across the US for their auctions and fundraisers.
2) HOW DID YOU DECIDE ON THIS BUSINESS?
Pure and Simple-we were so frustrated! Yes, Target is great for medium and lower end products, but when we wanted organic clothing, and products that were built with durability and quality in mind, it was difficult to convince a higher-end retailer that when we bought more than 1, a discount would be more than "appreciated". Plus it was fun to check out all of the baby gear that is out there.
3) WHAT DO YOU ENJOY MOST ABOUT THIS BUSINESS?
That it is perfectly acceptable to have children in the background while on the phone with customers who also have children in the background. It's also great that even though these children have never met, they always seem to have one thing in common-that is needing something "right now" as soon as their parents get on the phone.
I also love finding out about products that will make our lives easier. It is a lot of fun to test out these products with moms and see how they feel about them.
We thoroughly enjoy speaking with other moms that already have or are about to have twins or more. It is really great to be able to share and collect advice and product knowledge from other parents-and swap the occasional hilarious story about the craziness of being parents of multiples. Talking to other moms all day really makes one feel quite normal. Oh, and the Dads are hilarious since they are usually A MESS!
4) DO YOU WANT TO TALK ABOUT ANY SPECIAL PROMOS OR DEALS?
Two products actually come to mind:
We are in love with the Snuggingo! It is the only seat insert for newborns of it's kind. It keeps their head up and supported while they are in the car seat, stroller and swing. It is a very soft support that keeps babies' shoulder and neck support to keep babies airway in the correct position for optimum breathing. $50 each or buy more than one and get automatic 15% discount.
We jut bought a bunch of the 2007 Mountain Buggy Strollers that were overstock from Mountain Buggy Europe. So our latest promo is:
A) Double Mountain Buggy Urban Jungle Strollers 2007 priced at $649 (incl shipping) and comes with storm cover (an additional $70 value) Comes in Red, Black, Navy, Chocolate, & Pumpkin. (pumpkin was never sold in the U.S.-so you will rarely see them here) normal price is $899 limited supply available
B) 2007 Carrycot that fits into the double Mountain Buggy Double Stroller in Chocolate, Navy, Pumpkin, Black and Red promo rate is $160 marked down from $249. limited supply available
5) TELL US A BIT ABOUT YOU, YOUR FAMILY, YOUR TWINS AND HOW YOU MANAGE IT ALL.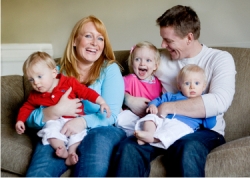 My name is Stacey Vandell and I started this business with my mom! I am in charge of products and she is in charge of accounting so it works out very well. One of the many reasons I started this besides being frustrated that a store like this didn't exist, but also to help my mom out who suffers from Crohns disease and fibro myalga which makes it very difficult for her to manage fulltime employment. This arrangement not only strengthens our bond, but also is a ton of fun!
My wonderful Husband Rob is very supportive even though I am constantly changing Joggers on him. He finally put his foot down and said that he is no longer my "Jogger Guinea Pig"-I think he got tired of wasting his miniscule moments of free time learning all of the bells and whistles on the latest jogger each time he wanted to go for a run with the kids. We were married barefoot on the beach in Maui in 2003 and are still wondering if we will ever make it back there....
Our Sons Jake and Ryan (you know, Jake Ryan from 16 candles-yes we DID name then after that movie) are 22 months old and our Daughter Regan is 3 ˝. We had 3 kids under the age of two. It has been really fun so it's easy to look past all of the barf, boogers, diapers and broken Christmas tree ornaments. We are now used to feeling like zoo animals since whenever we go anywhere we have people stare at us like we should be in a cage with all of those little kids. I sometimes think it would be cool to live at the zoo-that way we have someone else feed and clean up after us.
Rob and I have a very good set of rules at our house. The first and foremost is that only one of us can be crazy at a time (my mother says that is completely unfair to Rob since I am always nuts). We also firmly believe that having twins or more enhances your sense of humor. Couple that with the room with padded walls at the back of the house, we have found complete success to manage marriage, kids, work and sometimes if we are lucky enough to find somewhere in the house to hide from the kids...a little romance....
6) ANY ADVICE OR INSPIRING WORDS FOR OTHER MOMS?
My advice? Try to find humor in as much as possible. When someone offers help-say YES! They may not offer again, but at least you got help once
Purchase all the same types of bottles and/or sippy cups. That way you don't have to waste time matching up parts and pieces. Same goes for bowl and plates-get all the same kind so they stack don't create an unruly pile in the cupboard or drawer.
If your kid throws a tantrum, see if you can outdo them.. It's amazing that you can embarrass a 3 year old at Target (and quite fun sometimes)!
Dishes can wait, so can the vacuuming (laundry usually can't though-sorry ) but focus on "now-time" with the kids. I would get so caught up in trying to make the house somewhat presentable that I would not realize how relaxing it was to get down and just play blocks. It's actually quite fun.
Kiss your spouse/partner everyday-it's easy to forget to do.
7) HOW DO OTHERS CONTACT YOU FOR MORE INFORMATION?
stacey@alototots.com via email or at 425-968-2620 our website is www.alototots.com
---
Happy Valentine's Day to you all! Until next month....
All the best, Kellie Asaro (site founder)