Hi



HAPPY MOTHER'S DAY TO ALL!

Every once in a while I come across some really cool, helpful products for twins while surfing the net. This month's newsletter features my most recent discoveries. Also, see the April "Two Cute" contest winner and our "Featured Mom", Geohde!
---
May 2009 ~ Issue #008

~ TABLE OF CONTENTS ~


Cool Products For Twins
Join The "Chit Chat" For Your Last Chance To Win
"Two Cute" Twin Photo Contest
Featured Mom
---
Cool Products For Twins



I have always been an avid internet shopper. It's easy, it's time saving, and I can do it from the comfort of my own home...Even with screaming kids in the background, my hair a mess, and my bathrobe on. Throw in access to thousands of sites offering the stuff I want, and it's a match made in heaven. This month I have come across several great finds for twins and their parents. I will share a little bit about each and you can decide for yourself if you would like to check them out...

~~~~~~~~~~~~~~~~~~~~
Two Snowflakes

This is a book for twin children by a mother of twins herself, Jennifer Miller. The story line revolves around two identical snowflakes and how they deal with their similarities and differences. It would make a wonderful gift, as well as an addition to any twin library.

Visit her site now!

~~~~~~~~~~~~~~~~~~~~
The Baby Dipper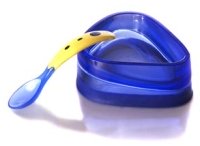 Okay new moms, this one's for you. You will have to give kudos to it's inventor, Barbara Schantz, a mother of two sets of twins! The Baby Dipper is a specially designed bowl and spoon set created for easy, one handed feeding. Barbara was kind enough to send me one, and let me tell you, you'll never use anything else again when it comes to feeding time with your twins (and single babies too). This bowl stays put while you spoon every last bit of food out of it's three rounded corners. And, as your children grow, they can use it to feed themselves too. With an affordable price tag of only about $10, the Baby Dipper goes the distance. What are you waiting for?

*We'll also be giving away a Baby Dipper to the winner of the May Two Cute contest.

~~~~~~~~~~~~~~~~~~~~
Frecklebox
Looking for the perfect gift or keepsake for twins? Frecklebox.com has it all dialed in! Their mission: To educate and entertain. Every item on their site can be personalized, from books and growth charts to puzzles and party favors (just to name a few). Items like these work great for twins, as they can be made special for each of them. I ordered the "My Name is..." Personalized Book for each of my boys and couldn't be happier with them. Not only do they present a simple way to start teaching kids how to spell and recognize their names, but they will become a cherished memento to hang on to for years to come.

Visit Frecklebox.com now to see their entire selection!

~~~~~~~~~~~~~~~~~~~~
Baby Banz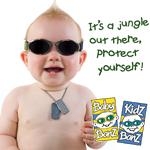 Every child needs a pair of these! Baby Banz are sunglasses made especially for babies and kids. Offered in a variety of colors, they have a convenient, adjustable strap that holds glasses comfortably in place. As adults, we all wear sunglasses to protect our eyes from the sunís UV rays. So, why not give the same protection to our children? These cool little shades are already reasonably priced, but the companyís owner has given us a special discount code for and extra 20% off through June 30th! Just enter TWINS09 at check out.

*Baby Banz is also proud to be the first complete infant and child UV apparel and eyewear manufacturer to be endorsed by the Melanoma International Foundation.

Check them out along with other UV protective accessories!


---




Join The "Chit Chat" For Your Chance To Win



It's your last chance...If you haven't already, be sure to enter the "Chit Chat" we're hosting on DivineCaroline.com with your most amusing twin question for your chance to win:

A copy of Chicken Soup for the Soul: Twins and More and a gift certificate for $25 at TrendsInTwos.com You have until May 8th!



---
"Two Cute" Twins Photo Contest Winner!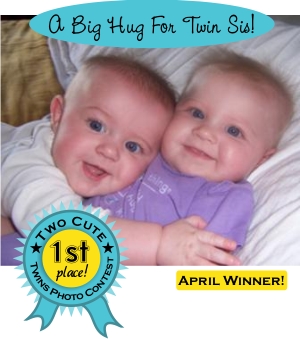 Here's April's winner! What sweet sisters!

Now taking entries for May



















---
---
Featured Mom ~ Geohde

This month's featured mom is a blogger, mom of twins and an M.D. She has a fresh, straight forward, humorous writing style. I love her articles so much that several of them are posted on the site (see links below)...

1) WHAT IS YOUR WEB SITE/BLOG?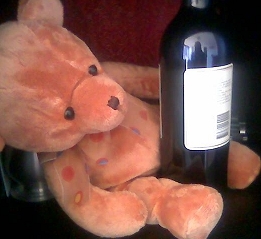 I've been blogging since 2006 at Mission:Impossible (or adventures in...) primarily about my struggle to:

A: get pregnant at all,
B: conceive a healthy child,
C: stop contracting with such enthusiasm at stupidly early gestation, leading to
D: stay pregnant with my twins to a point that didnít make me break out in a cold sweat,
E: give birth, cleverly managing to lose all my dignity at the same time (I blame the morphine),
F: cope with two newborns at once and
G: survive raising multiples without strangling my poor husband on too regular a basis, at least.
All the while pursuing item
H: a medical degree in all my copious free time, which I finished a couple of years back.

I am a patient doctor, but am a typical doctor patient, i.e. terrible. I strongly suspect my clinic staff still get flashbacks of the anxious woman leaving multiple voicemails about all the unscheduled bleed-y activity coming from her vagina only three days after embryo transfer in a particularly craptacular cycle. The memories.

I've managed to write about infertility, the treatments, the fear when pregnancy does happen, the devastation of a lethal prognosis pregnancy, picking up the pieces and starting again, my IVF's and general rants and raves about the world around me and, finally, just for kicks, how bizarre being a doctor really is sometimes.

Mostly, however, like any good obsessed parent, I now write about my twins and the Public Stupid that two babies the same age with one mother seems to attract. It's impressive. The Stupid, not the blog.

I suspect with the fullness of time the bracketed 'adventures in...' shall have to include more than the current items 'infertility, pregnancy, and parenting'. My URL is missionimpossibleinfertile.wordpress.com

2) HOW DID YOU DECIDE ON THIS BLOG/SUBJECT?
Basically, my blog began as a strategy to stop me going completely doolaly in mutiny against all the ultrasound probes in very personal locations at ungodly-early (almost anything infertility related is either sharp or before 8am for reasons unclear) and cope with the quiet private misery that is unique to infertility sufferers.

Along the way I found a community of similar women who not only refuse to spread 'baby dust', but have had the guts to also write about what to expect when you're NOT expecting with honesty and strength.

3) WHAT DO YOU ENJOY MOST ABOUT THIS SUBJECT?
Writing about one's life is the ultimate gift that keeps on giving. For the rest of my natural I fully expect to remain infertile, some sort of doctor and the parent of twins.

Unless I turn incurably beige, take up lawn bowls or die, I'm probably unlikely to ever run out of material. Everybody's Snark Gland benefits from a good vent periodically and I am no exception.

No, that last part was NOT serious medical advice. Some people's Snark Glands have pressure release valves, I hear, these days.

4) DO YOU WANT TO TALK ABOUT ANY SPECIAL PROMOS, PRODUCTS, DEALS OR OTHER TOPICS?
I'd love to talk about a special promotion I have where you stop by to read my blog! That's as far as I stretch at the moment, but I could probably manage a cup of tea, as long as you don't mind making it at your end. It'd be all cold by the time the postal system delivered it.

5) TELL US A BIT ABOUT YOU, YOUR FAMILY, YOUR TWINS AND HOW YOU MANAGE IT ALL.
I think I've probably already said far too much about myself, my reproductive organs and my early morning RE visits as it is. My twins, who are currently napping (permitting me to write this missive) are five months adjusted fraternal girls. I didn't say any of us were well adjusted.

Since I'm sure they won't mind the internet knowing a teeny bit more I will add that they were the cryogenically-frozen-then-thawed product of my third IVF transfer and that I first saw them at five and seven cells apiece. They were a teeny bit bigger than that by birth.

I manage it all by keeping a diary to deal with surgical removal of memory banks that seemed to happen with my c-section, never wearing the same knickers two days in a row and always treating each day as a fresh start even if I haven't technically had any sleep.

6) ANY ADVICE OR INSPIRING WORDS FOR OTHER MOMS?
You can do it, even if you have to complain bitterly about your lot fairly often. I do actually have an advice column for those about to have twins, or new parents thereof on my blog that is a little bit more useful.

7) HOW DO OTHERS CONTACT YOU FOR MORE INFORMATION?
I can be reached via my website at missionimpossibleinfertile.wordpress.com



See below - Geohde's articles featured on Twin-Pregnancy-And-Beyond.com
IVF Twins
Twin Pregnancy Complications
Surviving Twins

---
Until next month....
All the best, Kellie Asaro (site founder)