Congratulations
You've Been Approved!
Congratulations! If we have notified you and given you the link to this page, your site, blog or product has been awarded the
Twin Mom Seal Of Approval
! Please feel free to grab the image or images of your choice below. Simply copy and paste the corresponding HTML (located in the box next to each image) for the image that you would like to post. Our link is already included in the HTML code along with the image. You have your choice of regular JPG files or PNG files with transparent backgrounds. If you have any trouble or you would like a custom size, please
contact us
.
*
This page is reserved only for recipients of our Twin Mom Seal Of Approval. If you have reached this page in error, you may NOT use, copy or post any of the images below.
---
JPG file - Image size - 120 x 127

---
JPG file - Image size - 135 x 143

---
JPG file - Image size - 150 x 159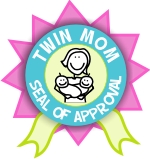 ---
JPG file - Image size - 200 x 212
---
PNG file with transparent background - Image size - 120 x 127
---
PNG file with transparent background - Image size - 135 x 143

---
PNG file with transparent background - Image size - 150 x 159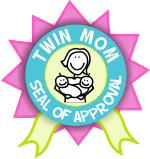 ---
PNG file with transparent background - Image size - 200 x 212