Hi



Welcome to the June 2016 issue of the Twin Stuff! newsletter!

In This Issue:

Twins More Likely to Live Longer Due to Their Bond

We Have the Perfect Summer Item for Twins!

TwoCute™ May Contest Winner!
---
Twins More Likely Than Others to Reach Old Age Because of Their Bond
By Susan Scutti - Posted with permission from Medical Daily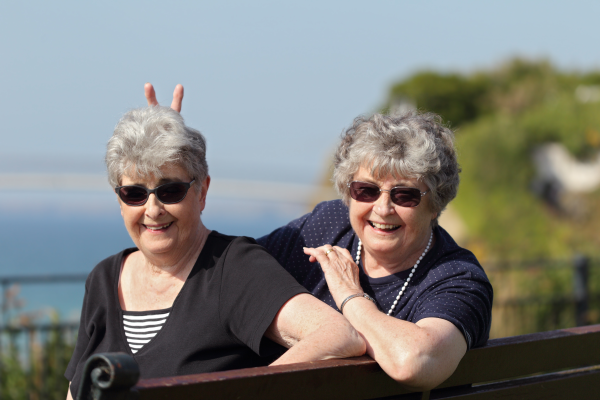 Because couples and people with lots of friends tend to live longer, healthier lives, scientists often say marriage, friendship, and social interaction in general provide "health protective" benefits. Similarly, being born a twin may offer unseen advantages, according to a new analysis from University of Washington researchers that shows twins are more likely of surviving into their 60s.

Specifically, identical twins show greater ability to survive than fraternal twins at nearly every age, while fraternal twins have greater survival capacity than the general population.

"This research has documented a 'twin protection effect' akin to a marriage protection effect where a socially close relationship contributes to better survival outcomes throughout most of life," concluded David Sharrow and James Anderson. Read Full Article...
---
Get Free Pregnancy Stuff
! Expecting Twins? Get Free Magazines, Diaper Samples, Coupons and More at Babies Online!
---
---
The Perfect Summer Item for Twins!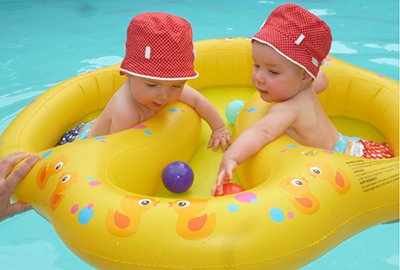 Last summer we discovered the Twin Swim Float, an item invented by a mom of twins in Belgium.

Since then it has totally taken of in popularity and continues to be a top seller at our fabulous sister-site, Trends In Twos™. In fact, it sells out quite often. Especially in the summer months!

What makes it so great? Simply, that it will accommodate TWO babies or toddlers from about 6 to 36 months, making pool time so much more enjoyable for parents AND twins alike. Not to mention, it's totally cute with little twin ducks decorating the float.

It's easy to use and ideal for introducing twins to the joy of water. Each float arrives in a retail box along with 5 colorful plastic balls, so it's great for gifting too.

Want to learn more or order? Check out the Twin Swim Float at Trends In Twos...
---
---
TwoCute™ Twins Contest Winner!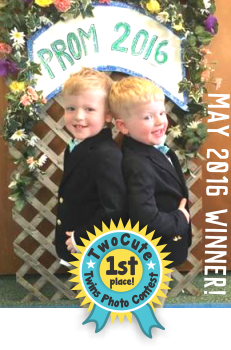 Here's our latest TwoCute™ contest winner...

How cute are these little heartbreakers at their first Prom!

Now taking entries for June

The winner will receive a $10 Gift Certificate to Trends In Twos™

We just love seeing all of your entries every month...It's always hard to choose a winner with so many adorable twins out there. Keep up the good work parents!













---
Quick Links!

Twin Pregnancy And Beyond™ | Double Duty Log Book for Twins | Shop For Twins at Trends In Twos™
---
---
Thanks for taking the time to read Twin Stuff!
Until next time....
All the best, Kellie Asaro (site founder and Mom of twins)