Hi



Happy New Year! I know I was a bit late getting this month's newsletter out (I like to get it out on the 1st), but I've been recovering from the busy holiday....I'm sure I'm not alone here! Needless to say, I'm back on track and have some cool new stuff for all of you patient readers.

---
January 1, 2009 ~ Issue #004

~ TABLE OF CONTENTS ~


New Stuff On The Site
Shop Twin Gear
Write Me An Article
Casting Call
Featured Mom
---
New Stuff On The Site
Aside from a slightly updated logo and navigation bar, I have added a couple new sections and articles that may be of interest.
Twin Homebirth
If you've been looking for information on having a homebirth with twins, then take a look at the new Twin Homebirth page. It includes a bit of advice from our friend Dr. Warshak, as well as a cool home, water birth of twins video. There are also some really helpful links covering Midwifery and a totally amazing Freebirth With Twins Story!
Twins 101
I made a really great new friend, who is also the author of the book Twins 101: 50 Must Have Tips for Pregnancy through Early Childhood. She's Khanh-Van Le-Bucklin, M.D. and she's awesome! She's not only a pediatrician who has her own identical twin girls and a cool new book, she even has her own website that's just for parents like us! Be sure to keep up with our newsletter, as she's our Featured Mom for the April 2009 addition. I also received a copy of her book and posted a review which you can Read Now.
The Belly Bar
I did a fun review of the Belly Bar products recently. They are basically nutritional snacks made especially for pregnant moms, but I really fell in love with them! Check It Out


---
Shop Twin Gear



We now have our own Twin Gear Store hosted by Amazon. Added for the convenience of our visitors, it has a pretty good selection of gear ranging from double strollers to diaper bags and twin nursing pillows. The best thing about it is that there's lots of detailed information and even ratings, so it's a good place to start if you're looking for gear. We'll be adding more products too, as we get suggestions and find more useful items.


---
Write Me An Article!
If you have ever wanted to share your unique experience, expertise or advice in a particular area pertaining to twins, be sure to Contact Me. I have found that the best source of information regarding twins often comes from parents and families themselves. For instance, I would like to add a section about "Finding A Nanny For Twins", but have no personal experience. So, I will do my best to research the information and share it, but having an article written by someone who has been there is so much more helpful. Even if you want to share something pertaining to one of the topics we already have on the site, it will only add to our main goal - which is to Connect, Learn, Share! So, if you think you have something to say and you're a decent writer, please let me know! Oh yeah, you'll get full credit and a link back to your site or blog if you have one. :-)


---
Casting Call For Reality Show



Casting Pregnant Women in the Los Angeles, California area for Oxygen Network! ARE YOU AND SOMEONE YOU KNOW PREGNANT? Do you have pregnant friends, coworkers or relatives? We want you and your pregnant posse! Women ages 20-29 who... *Are ruled by raging hormones *Demand attention *Love being in the spotlight *Want their child to be raised with a silver spoon in their mouth *Are pregnant or trying to get pregnant *Are planning the baby shower of the century *Speak their mind no matter what *Are opinionated about raising children SEND YOUR CONTACT INFO AND PICTURES to tvmomcasting@gmail.com for an application!
Compensation: Up to $6000 if selected for series!


---
Featured Mom ~ Stacey Hill
This month's featured mom has a helpful site dedicated to families of multiples, as well as multiples themselves...

1) WHAT IS YOUR BUSINESS?
I operate and run www.UniquelyAlikeMultiples.com where we celebrate multiples for their individuality and uniqueness. We also help your journey in raising multiples a little bit easier by having many helpful resources in one place.
2) HOW DID YOU DECIDE ON THIS BUSINESS?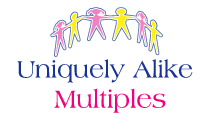 After the birth of my identical twin girls I realized that there was not a whole lot of information out there that pertained to me and I had to search all over the place to find what I was looking for. I wanted to create a community where parents of multiples (and multiples themselves) could come together and find all the information they needed in one place as well as support and encouragement.
3) WHAT DO YOU ENJOY MOST ABOUT THIS BUSINESS?
I absolutely love working for myself while being able to be at home with my children which is most important to me. I also love being able to watch this site grow and know that it is going to help others in their journey of raising their multiples.
4) DO YOU WANT TO TALK ABOUT ANY SPECIAL PROMOS OR DEALS?
I would LOVE to talk about Mission Multiples which is also a part of our company. Mission Multiples is a not for profit organization that will help families of multiples in need. We want to be able to provide donations of new and gently used multiple items as well as financial and volunteer support for these families. For more information please visit www.UniquelyAlikeMultiple.com/MissionMultiples
5) TELL US A BIT ABOUT YOU, YOUR FAMILY, YOUR TWINS AND HOW YOU MANAGE IT ALL.
Well, before I was a mother, I was working in the wonderful world of retail as a visual merchandiser. I joke about the wonderful world of retail, but I did really love my job. I have a BS in Fashion Merchandising and Marketing, and an MBA in Business Management. My career started out in retail management for a few years and then to visual merchandising. When I found out I was pregnant with twins, I was torn at first because I wanted to be home with them, yet I finally had a job that I loved. So after a lot of talks with my husband and myself, we decided that it would be best for me (as well as financially) to stay home with them. I absolutely love watching them grow and hit milestones, but I will admit that there were and still are days when I am ready to go back to work (mainly because work was easier!)

My husband and I have been married for three years and never would have imagined having two children in two years! We are very proud of our family and hope to have more someday (not too soon though!). As far as managing it all, I can only give myself credit for being extremely organized which is a huge help when running a business and raising multiples. Without organization I think I might have gone off the deep end a few times over.
6) ANY ADVICE OR INSPIRING WORDS FOR OTHER MOMS?
If you have something that you are passionate about please go after it! You want to do what is best for your children, but donít forget about what is important to you as well. Your children will be inspired by it one day and you will not have any regrets after they have grown up.
7) HOW DO OTHERS CONTACT YOU FOR MORE INFORMATION?
I can be contacted best by e-mail at StaceyHill@UniquelyAlikeMultiples.com
---
Thanks for reading Twin Stuff! Until next month....
All the best, Kellie Asaro (site founder)