Twins 101
 
Book Review
Twins 101:
50 Must Have Tips for Pregnancy through Early Childhood
from Doctor M.O.M.


By Khanh-Van Le-Bucklin, M.D., M.O.M.*




*Mother Of Multiples
Review by Kellie Asaro:
I want to tell you right off the bat, Dr. Le-Bucklin is not only a pediatrician, she's the mother of twin girls. She was kind enough to contact me and let me know about her fabulous website, TwinsDoctor.com, as well as send me a copy of her wonderful book.

As far as twin pregnancy and parenting books go, I have owned a few. What immediately struck me about Twins 101 was the unique format. This book is not comprised of the usual layout of extensive chapters, yet still presents the pertinent facts in notable detail. Offering super easy to read, and even easier to find tips on the topics we, as parents of twins, are most interested in. The book covers subjects like twin pregnancy, how to stay organized, and even feeding and dressing twins, just to name a few. Not to mention, the helpful stories, hints and twin facts presented in brief blocks peppered throughout the book.
Sample Tips Include:
Don't worry about all the horror stories!
Be Alert for the signs and symptoms of preterm labor.
Visit the Neonatal Intensive Care Unit during the second trimester.
Don't buy two of everything!
Teach healthy sleep habits.
Let yourself cry, cuddle, celebrate!
It is a surprisingly compact little book and will literally fit into your purse if you're so inclined. And, at the affordable price of about 16 bucks, it's a real must have for anyone newly pregnant or who already has young twins.
Grab your copy by clicking on the book cover above...Available on Kindle too!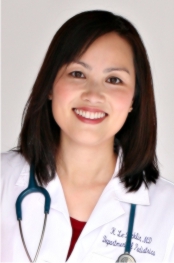 About the Author:
Dr. Khanh-Van Le-Bucklin completed her pediatric residency at Stanford University and received her M.D. at the University of California, San Francisco before becoming the Pediatric Residency Director at the University of California, Irvine. She is also the founder of TwinsDoctor.com and the senior medical content editor for the popular pediatric website DrGreene.com. She lives with her husband and three girls (one singleton and twins) in California.