---
TwoCute™ Twins Photo Contest Winner!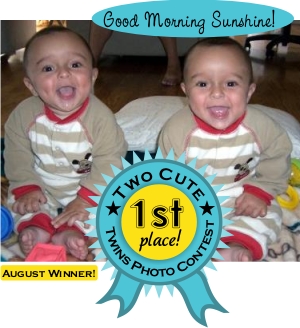 Here's August's winner! What happy boys!
Now taking entries for
September
---
Featured Mom ~ Karen Berg

This month's featured mom has come up with the ultimate must have product for parents...

1) WHAT IS YOUR WEB SITE/BLOG?

Business website is ByTheBookKids.com and blog is MacaroniandChickenFingers.blogspot.com
2) HOW DID YOU DECIDE ON THIS BLOG/SUBJECT?
My business partner, Melissa Bishop, and I were talking about everything that we have to write out for the sitter, over and over again. And even though I had a nanny at the time, there were things that she still needed to know, and I needed to learn from her. Melissa came up with the idea of the book, and together we made her idea a reality.
3) WHAT DO YOU ENJOY MOST ABOUT THIS SUBJECT?
First and foremost, I love working for myself, instead of a corporate giant, as I was doing in my past life! I love being passionate about our creation, although I must admit, it makes rejection much harder to take! I mean, shouldn't EVERYONE want this book?:) And I have really learned how good people are. I have "met" so many other Mom Entrepreneurs and business partners who have been so wonderful to us, teaching us what we need to know and giving encouragement when we would start to get down. After being in the corporate world for so long, it has restored my faith in human nature.
4) DO YOU WANT TO TALK ABOUT ANY SPECIAL PROMOS, PRODUCTS, DEALS OR OTHER TOPICS?
By using coupon code BTBK7757 (case sensitive), you will get a 25% discount on the hardbound book, bringing the price down to only $14.95.
5) TELL US A BIT ABOUT YOU, YOUR FAMILY, YOUR TWINS AND HOW YOU MANAGE IT ALL.
I am happily married to a person who could take a passion or hobby and make a successful business out of it. I've always envied that about him, and now, with his support, I am doing it also. We have 8 year old fraternal twin boys, Adam and Eric. As soon as we knew we were having twins, we decided to hire a nanny instead of dealing with day care. I was working in sales at the time, so although my schedule was flexible, I still worked a lot of hours. Having a nanny was a wonderful thing for us, but isn't for everyone. It takes getting used to having somebody in your home all day long. I feel so lucky that I am now able to spend more time with my boys, especially during the summer months. And during the school year, I can volunteer much more at school, so I really get to know the kids they talk about, as well as the teachers.
6) ANY ADVICE OR INSPIRING WORDS FOR OTHER MOMS?
I know you've all heard this before, but you MUST take time for yourself. If you are healthy and strong, you'll be a better mom and wife. I actually take a vacation with my 2 sisters (and best friends!) once a year, but even just an afternoon at the spa, or time to exercise, can do wonders for your mental and physical state. And although we feel (irrationally) guilty when we leave our kids with a babysitter, or even Dad, it's something you MUST do for yourself, and for your family! (And here comes the shameless plug: My book can help take the stress off leaving your kids with somebody else, because everything about your kids is written down and organized for your caregiver.)
7) HOW DO OTHERS CONTACT YOU FOR MORE INFORMATION?
I can be reached either at Karen@karmelpublishing.com or 866-200-9319.


---
Do you want to be a Featured Mom? Send us your request and you might be next!
Until next month....
All the best, Kellie Asaro (site founder)