Hi



We could all stand to save some extra cash, especially in today's economy. This month's newsletter has some helpful tips on ways to save when you're expecting twins. Also, see the March "Two Cute" contest winner, our "Featured Mom", Khanh-Van Le-Bucklin, M.D., and get info on the fun "Chit Chat" we'll be hosting with DivineCaroline.com!

---
April 1, 2009 ~ Issue #007

~ TABLE OF CONTENTS ~


Silly Twin Questions - "Chit Chat"
Money Saving Tips When You're Preparing For Twins
"Two Cute" Twin Photo Contest
Featured Mom
---
Silly Twin Questions "Chit Chat"



This should be really fun! If you haven't already, check out DivineCaroline.com's "Chit Chats" section. It's a simple idea and basically allows you to post your comments on special topics with the chance to win a prize. I have teamed up with them to host a topic based on some of the silly, annoying, and sometimes, outrageous questions we get as parents of twins.

The prize will be:

A copy of the book, Chicken Soup for the Soul - Twins and More: 101 Stories Celebrating Double Trouble and Multiple Blessings (Paperback) by Jack Canfield, Mark Victor Hansen, Susan M Heim.
And also, a gift certificate for $25 to use at Trends In Twos, a boutique specializing in clothing and gifts for twins and their families.

~~~~~~~~~~~~~~~

Of course, I added this topic on the main site as well, so don't forget to join in the fun at Twin Pregnancy And Beyond too. You can add comments or submit your own experiences with Those Silly Twin Questions!

*NOTE - The prize will be awarded for participation at DivineCaroline.com NOT Twin-Pregnancy-And-Beyond.com


---
Money Saving Tips When You're Preparing For Twins



Preparing for twins financially can take a lot of dedication and resources from parents, and not just first time parents, but all kinds of parents who need to budget for two children born at the same time. Finding out you are expecting twins is exciting but, it may also be a cause for panic! Especially when you have prepared emotionally, psychologically, and financially for just one child at the beginning of the pregnancy. So, what are the financial considerations that would-be parents of should take note of? Right off the bat, you'll need to be a bit more savvy about budgeting and preparing for twins versus a singleton. Nearly everything will be doubled, from medical expenses to clothing and diapers.

Although it must be admitted that having twins will require more than what you have ordinarily prepared for, there are simple things that parents can do to when it comes to saving money and budgeting for twins. Here's a helpful list of tips to get you pointed in the right direction.

Research the different discounts and coupons available for multiple birth children. These can range from discounts on gear and baby food to free diapers and formula.
Ask those family members and friends who want to bestow gifts to purchase the things you will really need (like extra diapers, clothing, etc). Think about creating a baby registry to make it easy.
Check with friends and relatives who already have children to see if they might have equipment and/or furniture you can borrow, buy or simply take off their hands. Many parents will be happy to part with that clunky infant car seat that's no longer being used. And, if not, they likely know someone who does. This goes for baby clothing as well.
Don't be shy of browsing around your local second hand shop. You can find a lot of great bargains on infant and baby clothing this way and many of the items for this age group are hardly worn. Your twins will grow so fast that keeping up with appropriate clothing for both of them can become very costly, very fast.
Try to spread expenses out and only purchase the equipment you will use right away. For example, your twins may be able to share a crib during the early months. And, there will be no need for two highchairs while you're dealing with infants.

By implementing some of these simple tactics now, you're on your way to saving some extra money for the things you will surely need later.


---
"Two Cute" Twins Photo Contest Winner!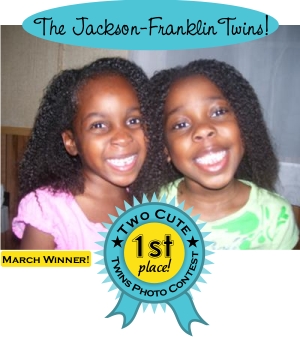 Here's March's winner! Who can resist those big beautiful smiles?

Now taking entries for April



















---
A GREAT FIND!

Learn How To Have A Fit And Healthy Pregnancy at fitandhealthypregnancy.com

Finally - A Holistic Fitness And Nutrition Guide For The Pre-natal Population! Endorsed By The Medical Community And Mothers Alike.
---
Featured Mom ~ Khanh-Van Le-Bucklin, M.D.

This month's featured mom has a lot to offer parents of twins. She's not only a pediatrician, author, Web site owner, and now my friend :), she's also the mother of identical twin girls...

1) WHAT IS YOUR BUSINESS?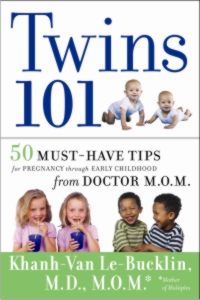 I am a pediatrician and the author of Twins 101: 50 Must-Have Tips for Pregnancy through Early Childhood from Doctor M.O.M. I'm also the founder of TwinsDoctor.com, a website with health information exclusively for multiples.

2) HOW DID YOU DECIDE ON THIS BUSINESS?
I wanted to offer parents of multiples a resource with medical information and practical advice from the perspective of a pediatrician and mother of twins.

3) WHAT DO YOU ENJOY MOST ABOUT THIS BUSINESS?
The best thing about being a parent of multiples is meeting other parents of multiples. It always amazes me how incredibly energetic, creative, and supportive mothers of multiples are despite their busy lives! I'm so honored to be a part of such an amazing community of parents.

4) DO YOU WANT TO TALK ABOUT ANY SPECIAL PROMOS, PRODUCTS, DEALS OR OTHER TOPICS?
I'm thrilled to be an invited speaker at the upcoming annual National Organization of Mothers of Twins Clubs (NOMOTC) convention in Las Vegas, Nevada this July. I will be giving two workshops and will also have a meet-and-greet table in the exhibit hall.

The NOMOTC convention is a great way to have fun and relax while networking with other amazing parents of multiples. Registration information is available through the NOMOTC website at www.nomotc.org. I hope to meet as many parents at the convention as possible.

5) TELL US A BIT ABOUT YOU, YOUR FAMILY, YOUR TWINS AND HOW YOU MANAGE IT ALL.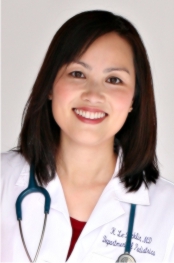 I'm the proud mother of a singleton and identical twin girls. My daughters, Hannah, Faith, and Hope are five, two, and two respectively. Hannah is a very sweet big sister who loves to read books and draw pictures of her family. Faith is silly, spunky, and social and Hope is giving, inquisitive, and loyal. My husband is a very supportive spouse who has the best sense of humor and is devoted to his "four girls".

I love my job as a pediatrician and professor at the University of California, Irvine. At UCI, I oversee the pediatric education of future doctors and pediatricians.

People often ask me how I manage everything, and the first thing I always say is that "I" don't! Everything I do in life is a "we" effort. I have a great team of people that help me at work and at home. Our relatives adore our children and are always ready to lend us a hand when we need it. Iím very blessed!
6) ANY ADVICE OR INSPIRING WORDS FOR OTHER MOMS?
One of the best pieces of advice another twin mother gave me was to make sure I allocated some quiet time to myself. It's really hard when you're a busy mother of multiples to think of yourself when you're constantly caring for others. However, even a half hour of alone time to relax, do something fun, or even nap does wonders for one's physical and emotional health. In the early days, my husband and I would take turns caring for and playing with our children so the other could take a break. These days, we get our alone time once our kids are in bed at night.
7) HOW DO OTHERS CONTACT YOU FOR MORE INFORMATION?
I can be reached through my website at www.TwinsDoctor.com. Parents can feel free to contact me with questions or comments, to submit ideas or material for the website, or simply to chat. I would love to hear from them!


---
Until next month....
All the best, Kellie Asaro (site founder)