Discounts for Twins

(scroll down to see our updated list)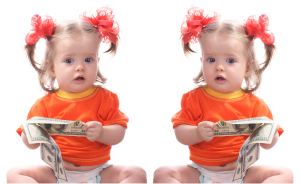 Looking for coupons and discounts for twins? Buying all the essential baby supplies for twins can get expensive twice as fast as for a singleton. Luckily there are several businesses and companies offering special discounts for twins and multiples (or more importantly, parents of twins!). Just scroll down for our entire list...

Keep in mind that you may have to contact some of these companies personally to find out about current offers for multiples that are not otherwise advertised. Some may even require proof of multiple births, which can usually be satisfied by copies of birth certificates or confirmation by the pediatrician.
Speaking of pediatricians, don't forget to ask yours about special offers as well. Many pediatricians get loads of products from companies to offer their patients, ranging from free diapers to formula samples, and sometimes even diaper bags!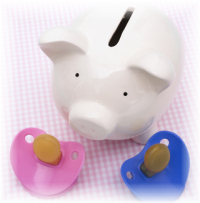 It can get quite tedious searching the web to find what's available, so we have done the searching for you to compile this extensive list. Browse through all sorts of offers and even some freebies! A lot of companies will send you coupons just for registering with them. As parents of twins, the extra savings will surely come in handy! 
---
Here's Our Current List of Discounts for Twins

---
*Please keep in mind that although we try our best to keep this page up-to-date, there may be offers and discounts for twins that have expired, changed, or are no longer available.

Enter coupon code 10BACK at checkout for a one time discount of 10% off your entire order (some exclusions apply). Shop now for fun clothing, gifts, and gear for twins and their families at TrendsInTwos.com.

---
Amazon has a membership program offers special benefits for just $99 per year. You can sign up for a 30 free trial to see if you like it.

Join Amazon Family 30-Day Free Trial
Save 20% on diapers subscriptions
Exclusive Coupons and Deals from Amazon Family

Exclusive Baby Registry benefits

FREE Two-Day Shipping on millions of items

Unlimited instant streaming of thousands of movies and TV shows

Unlimited, ad-free streaming of over a million songs and more Prime benefits
---
Babies 'R' Us Multiple Birth Discount
"We are pleased to inform you of our multiple birth discount. Babies"R"Us defines a multiple birth as parents with two or more babies the same age. We offer our customers 10% off two or more of the same items purchased in the same order (e.g. two cribs, two bedding sets, two strollers, etc.). The discount applies to the following categories only: furniture, bedding sets and baby gear, including car seats, strollers, travel yards, highchairs, swings, gates, exersaucers/walkers and backpack/carriers. Double strollers and matching infant car seats are also eligible for the multiple birth discount. This offer is not available on any special purchase items".
Visit www.babiesrus.com for more information.
---
Save 10% on your entire purchase when you shop online at JustMultiples.com
Use the coupon code SAVE10 at check out! Just Multiples - Where Shopping Begins for Triplets & Twins.
---
About Twins routinely has contests and giveaways for families with twins where they can win free stuff like diaper bags and more. Visit About-Twins.com to learn more

---
Pampers Multiple Birth Offer
"Simply send us copies of your baby's hospital discharge papers. Please black out sensitive information such as social security numbers before sending them. Finally, mail your name and address along with the copies of the hospital discharge papers to":

U.S. Residents: Pampers Multiple Birth Offer
The Procter & Gamble Company
P. O. Box 599
Cincinnati, OH 45201

Canadian Residents: Pampers Multiple Birth Offer
The Procter & Gamble Company - Toronto Ontario
P. O. Box 355, Station A
Toronto Ontario M5W1C5
Please allow 6 to 8 weeks for your coupons to arrive.

*We recommend that you contact Pampers to see what they are currently offering.
---
You can join the Huggies Rewards Program to earn points and receive special offers. Click here to see details!
---
GERBER® GOOD START® Formula provides a one-time complimentary gift to moms of twins, triplets, and other multiples. Please call them toll-free for more information at 1-800-284-9488. 
---
Check out their site www.beechnut.com for current specials or contact them about their "New Parent Package" which requires a short phone call to get. Phone: 1-800-233-2468
---
Simply register for Enfamil Family Beginnings® to receive all sorts of free samples and coupons. They additionally include special offers with other retailers.
---
Babiesonline.com scours the web to find great FREE stuff that moms are looking for. You can get started by filling out their easy online form.

---
The Enfamil® Multiple Birth Program is Mead Johnson's way of extending their congratulations to parents who have given birth to twin or multiple babies. If the family does not qualify for assistance through other agencies (like Women, Infants and Children Program) Mead Johnson is happy to help with their formula needs. The babies' pediatrician can refer parents of twins to receive complimentary cases of infant formula. The type of Enfamil formula that they receive depends on the doctor's recommendation, while the amount depends on the number of babies.
May need pediatrician to verify your twins and/or contact their Mead Johnson Medical Sales Representative to have you enrolled.
Phone: 1-800-222-9123

BRISTOL-MYERS MULTIPLE BIRTH PROGRAM
Bristol-Myers and Mead Johnson used to be associated, but have since made a split.  Call 1-800-422-2902 for more information and availability.

---
This program offers buy one, get one free on select Tiny Love products purchased directly through their 1-888-TINY-LOVE number or you can contact them directly through their website TinyLove.com.
---
Get a twins-gift packet.

Johnson & Johnson
199 Grandview Road
Skillman, NJ 08558
1-800-526-3967
---
Call 1-800-533-6708 for information on receiving twins bibs and rattles.

---
Save up to $250 on Flexible, Affordable Au Pair Childcare when you register online at goaupair.com. Give your children the personalized child care they deserve with an Au Pair from Go Au Pair. Au Pairs are international, young adults who come to the U.S. to provide 45 hours of live-in child care and light housekeeping each week. Perfect for parents of multiples!

---
Home
› Discounts for Twins