Hi



This month's newsletter has a focus on Dads of twins. Don't forget to check out the September TwoCute™ contest winner and be sure to enter this month's TwoCute™ Halloween Costume Contest.
---
October 2009 ~ Issue #013

~ TABLE OF CONTENTS ~


Just For Dads Of Twins
Vote For Us!
"Two Cute" Twin Photo Contest
Get The Twins Survival Guide

---

Just For Dads Of Twins



We have always had a special place on the site featuring articles for dads of twins written by dads of twins. But I wanted to make special mention of it in this month's newsletter as I have had the opportunity to meet some really cool dads of late. They too have some great advice and insight to lend to other parents. They also have a pretty unique point of view on the whole journey through twin pregnancy and raising twins. So if your a dad (or a mom who wants dad's view) and want a good read be sure to check out the Dads Of Twins page.

Here's an excerpt from one of my favorite articles called:

Keeping Your Sense Of Humor

I've read so much crap in the past four weeks I think I'm ready for a break from this constant barrage of NEW INFORMATION. It's like one person tells me one of their bright ideas and all of a sudden I'm researching for sources of said idea and hoping to jot it down on here to remind myself when the twins are here and screaming their heads off.

Then there are the a-holes you run into every once in a while who like to dig at the fact that we got one more baby than we planned for coming. "Whoa! Double trouble!" "They'll be a handfull!" or my least favorite: "That sucks!""

Really? It sucks? I've experienced pretty much every feeling you can have when freaking out about having two babies added to my family at once, but never that it sucked. Not by a long shot!

So, since June 28th, 2009 @ 12:05am in Geneva, IL in the ER of Delnor Hospital, I've relied on my sense of humor quite a bit. Read more



---

Vote For Us!



Sorry everyone about this broken link in last month's newsletter! I have since fixed it and would greatly appreciate anyone who wants to take the time to vote!
It was so thrilling to find out that the Twin-Pregnancy-And-Beyond.com website was nominated for the Love This Site award! Please vote for us by clicking on the button below. All votes are much appreciated and will help to spread the word about the Twin-Pregnancy-And-Beyond.com resource for parents of twins!


---
TwoCute™ Twins Photo Contest Winner!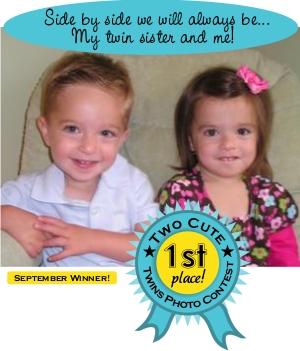 Here's Septembers's winner! I just love the little saying!

Now taking entries for October's Halloween Twins Costume Contest!

















---
Grab Your Twins Survival Guide

---
Do you want to be a Featured Mom? Send us your request and you might be next!
Until next month....
All the best, Kellie Asaro (site founder)