Hi



HAPPY 4TH OF JULY TO ALL OF OUR U.S. READERS!

This month's newsletter has some helpful tips for planning your twin nursery! We're also featuring a cool log book that's sure to come in handy when you have twins. Don't forget to check out the June "Two Cute" contest winner and our "Featured Mom", Jennifer Miller.
---
July 2009 ~ Issue #010

~ TABLE OF CONTENTS ~


Planning A Twin Nursery
Aunt LaLa's Log
"Two Cute" Twin Photo Contest
The Best Twin Belly Contest
Featured Mom
---
Planning A Twin Nursery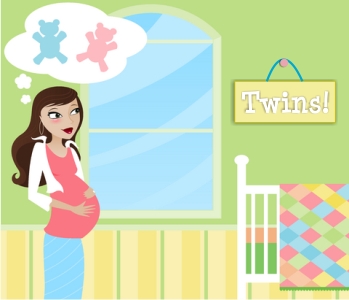 So, you need to plan a twin nursery. This situation may have some unique challenges depending on the size of the room and your budget. Many parents will choose to do a single nursery for twins out of convenience, due to the lack of an extra room, or just because. Regardless, a well planned nursery should benefit parents and twins alike. We have put together an informative series of topics (listed below) to help guide you in planning, furnishing, and decorating that special room.


Basic Crib Safety Tips



Baby Furniture And Decorating For Two On A Budget



Planning A Nursery For Twins While Keeping
Your Own Comfort In Mind



Purchasing The Right Crib Mobile


---
RosieBear - Creator Of Aunt LaLa's Log

Aunt LaLa's Log for twins is a chic and stylish, handmade journal designed for keeping track of every diaper change, feeding and nap of both kids in one place! Every parent of twins will appreciate this helpful item, as it can get pretty confusing with newborn twins. You can pick one up in your choice of stylish and hip prints. Just Click Here for a special discount link for our readers! And be sure to type in promotional code TWINS to qualify.


---
"Two Cute" Twins Photo Contest Winner!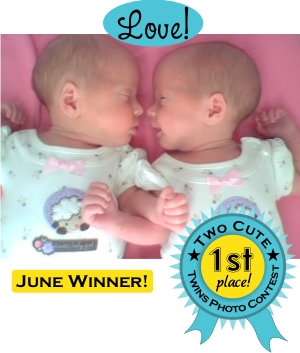 Here's Junes's winner! Love how their heads make a heart shape!

Now taking entries for July




















---
The Best Twin Belly Photo Contest!

Here's our winner!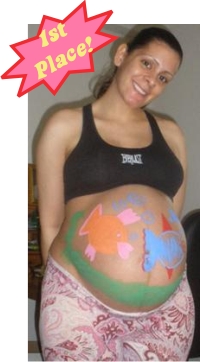 The prize was In The Womb - Multiples on DVD. This was a really fun contest which we look forward to doing again...stay tuned!
---
Featured Mom ~ Jennifer Miller

This month's featured mom has tons to offer the twin community from her sites and blogs to her published book...

1) WHAT IS YOUR WEB SITE/BLOG?

I have a few sites :-) First, there's TwinHappy.com which is home to my personal blog as well as twin-related articles/news, a community of Twin Moms, an ever-expanding list of Twin Moms (and Dads, Grandparents, etc.) on Twitter! (The latter of which also includes a weekly twin twitter party called #TwinTuesday!)... as well as a bunch of other little things... I'm always working on adding something new to the site!
I also write children's books. My first (and so far only) book in publication is "Two Snowflakes" which you can find at HERE (as well as on Amazon!)
And finally, I have another site that I'm working on: KrazyBaby.com! It's a site devoted to posting all those krazy pictures/video we all have of our nuts, err I mean, kids :-p
2) HOW DID YOU DECIDE ON THIS BLOG/SUBJECT?
Well, it really all has to do with having twins! Ever since having twin girls I've been a bit twin-obsessed :-p The name TwinHappy does have a double meaning... having twins has made me very happy, but I do realize that at times I can get a little twin-happy :-p
3) WHAT DO YOU ENJOY MOST ABOUT THIS SUBJECT?
I love connecting with others who know what it's like to have twins! For the first few years of my girls' lives, I was a bit isolated. It was always just me and the girls... which was great! But, now that the girls are getting older, it's been great to get out there (even if it is just through the internet) and connect with others who have been there and done that :-)
4) DO YOU WANT TO TALK ABOUT ANY SPECIAL PROMOS, PRODUCTS, DEALS OR OTHER TOPICS?
The only real product that I sell right now is my book "Two Snowflakes!" (Although, I am currently working on my second book: "Two Princesses!") However, again, there's also #TwinTuesday on Twitter, which along with just being fun, also includes a giveaway that you can enter, just by participating in the conversation! Find more info at #TwinTuesday
5) TELL US A BIT ABOUT YOU, YOUR FAMILY, YOUR TWINS AND HOW YOU MANAGE IT ALL.
Well, I'm 34 and my husband is 39... we were both born and raised (and still live) in the suburbs of Baltimore, Maryland. I have two stepchildren who are now 16 and 18 years old, both of which have lived with us full-time for the past 2 1/2 years. They actually moved in when our twin girls were just 18 months old. It was an adjustment to say the least :-) But, my stepkids have also been a lot of help at times.
Our twin girls were born in 2005 and they are actually TTTS (Twin-to-Twin Transfusion Syndrome) survivors! I'll admit, the first couple of years or so are a bit of blur to me now :-p However, we somehow made it through and, things have finally seemed to settle down a bit (at least as much as they can with 2 teenagers and 2 preschoolers in the house! :-p)
6) ANY ADVICE OR INSPIRING WORDS FOR OTHER MOMS?
The one piece of advice I heard a lot was, to ask for help when you need it. I always knew that was going to be a hard one for me :-) But, I've gotten better at it. The one thing I wish I'd heard, though, back when the girls were younger, and I was going through a bit of a rough time, was: Ask for help... and if you don't get it, ask again.... and again, and again if you have to. You might even have to demand it. Unfortunately, as good as family/friends' intentions may be, everybody has a tendency to focus on their own life, their own needs, etc. And you may think, "Well, they should know I could use their help! I've even told them I need help!" But, you really need to get past that and realize that it is very easy for people to get lost in their own lives, responsibilities, etc. But, those who love and really care about you will want to help... they may just need a lot of reminders :-)
7) HOW DO OTHERS CONTACT YOU FOR MORE INFORMATION?
You can e-mail me at jennifer@twinhappy.com or message me on Twitter @TwinHappyJen! :-) Or even just leave a comment on my blog at TwinHappy.com


---
Until next month....
All the best, Kellie Asaro (site founder)