Planning a Nursery for Twins

While Keeping Your Own Comfort in Mind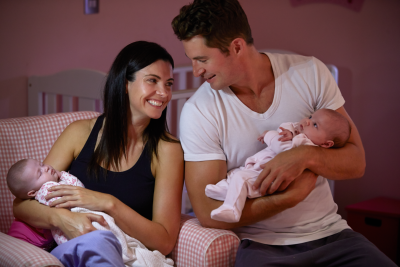 Most parents of twins tend to focus only on the needs of the new little ones while planning their nursery. But, mom (and dad too!) will likely be spending a lot of time in their twins' nursery as well. Just think of all those late night feedings and endless diaper and clothing changes! Making wise purchases and decorating decisions will pay off in the long run, not only for twins, but for everyone who spends time in the nursery too like siblings and other caregivers.
Here we will go over some of the main elements that should be considered during the planning process that will help keep you comfortable later.

Planning a Nursery for Twins -
Things to Consider:

Rocking Chair
Beyond the cribs (which we already covered extensively here) one of the biggest purchases for a twin nursery is a rocking chair or glider chair and ottoman....Maybe even a pair so both parents or caregivers have a place to sit for feedings and soothing. While shopping, take the time to try several chairs. Sit in each chair for a while and see how comfortable it is. If the back is too straight, it won't be comfortable for those long nights. Check the rocking mechanism. Is it enclosed to avoid little fingers getting pinched? Also, if you plan on breastfeeding your twins in the chair, will it accommodate both babies and/or a nursing pillow comfortably?
Dressers/Changing Table
There are many dressers that have a detachable changing table that sits on top. If you go with this type, check that the changing table is at a comfortable height by standing in front of it, bending your arms at a ninety-degree angle. The top of the changing area should be just below your arms. This will help reduce back strain...A plus when you will be changing double the diapers.
Lighting
A ceiling light is good to have for general daily use, but it is also wise to invest in a small lamp or night light near the changing table for late night care. This keeps the late-night disturbances at a minimum for the babies, helping everyone to get back to sleep quicker...At least we hope!
Blankets
In addition to blankets for your twins, it's not a bad idea to have some type of throw blanket on hand for mom to use while snuggling with or rocking the babies.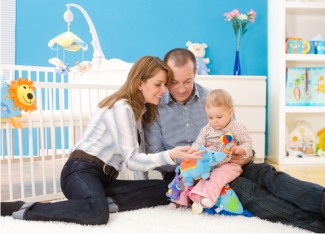 Pillows
Once twins start crawling and playing on the floor, having some pillows for mom or dad to sit/lean on can make a world of difference. One of the big leaning pillows with arms can also make a nice backrest while playing on the floor with little twins.
Small Fridge
One of the handiest items you can put into a nursery for newborn twins is a mini fridge, really! You can keep drinks and snacks in it handy for mom, as well as fresh formula and/or breast milk bottles (remember you can purchase a small portable bottle heater too for easy late night feedings). Of course, once one or both twins reach the crawling stage, the fridge will probably have to go. But, in the meantime, mom can rock baby, and grab a nice cold water at the same time. Now that's designing with comfort in mind!
iPod or Phone Dock With Speakers
Having a way to play music in the nursery can be so beneficial. You can put on something soothing to help your infants fall asleep. Or maybe, play something educational with fun nursery rhymes to practice with young twins.
Almost everyone keeps their music on their phone or other device that can simply be attached to speakers for easy listening. You can get a dock just for this purpose with a huge variety to choose from.

With the right planning and forethought, creating a comfortable environment for both mom and twins isn't too hard. And it will make their nursery an enjoyable place to spend time while everyone gets to know each other and beyond.
Home

›

Plan a Twin Nursery
› Planning a Nursery for Comfort