Nursery Themes for Twins

Thinking about nursery themes for twins? Preparing your nursery for not one, but TWO newborn babies can prove to be an overwhelming task given the number of options you can find in baby furniture, crib bedding, and wall décor on the market today. One of the best ways to start on the design of your twin's room is to research dependable baby furniture and accessory brands you know before making any purchases. Next, choose a furniture collection that uses the nursery space in the best way possible, paying close attention to windows and storage closets. Once the main baby furniture is put in place, it's time to move on to the decorative aspect of your twins' nursery and incorporate your themed décor ideas!
GENDER NEUTRAL NURSERY THEMES FOR TWINS:

Don't forget to check out our Gallery for photos of actual nursery themes for twins!
Noah's Ark - This classic theme is popular because of the sets of two animals which mimics twinship perfectly.
Dr. Seuss Thing 1 & Thing 2 - An iconic favorite with parents of twins! These lively characters will be great for boys or girls.
BOY & GIRL TWIN NURSERY THEMES

Surfer Boy & Hula Girl - Live near the beach? This theme is ideal for coastal dwellers that love the ocean. It's cool and can be done in a variety of colors.

Pink & Blue - Possibly the standard for boy/girl twins, but easily modified for a really unique look. Try using a bright raspberry pink along with turquoise blue and then brown as an accent for a more updated version.

Prince & Princess - A totally hip and trendy idea for your boy/girl twin nursery theme, but still a classic. You can easily find what you need in today's market to decorate a nursery this way.
Cowboy & Cowgirl - This theme can be fun for twins because of all the color combinations that can be used. Try bold reds, blues and browns. Or go for the softer side with pastels. Throw in stars and cowboy boots as accents.

Disney Characters - Fun and full of possibilities! There are so many legendary Disney characters to choose from when using this theme which would work for any combination of twins from boys to girls to one of each.
Stripes & Polka Dots - Truly classic prints, these can be used in a variety of ways to make a distinctive nursery theme for your twins. Simply use the colors that work for their genders and have fun mixing and matching the patterns.
GIRL NURSERY THEMES FOR TWINS

Ladybugs & Butterflys - This is a sweet theme for twin girls in which each can have their bedding done in either a ladybug or butterfly print so that they are each different. Then you can easily tie the whole room together by incorporating both ladybugs and butterflys with wall art, decorative rugs, and curtains.

Disney Princesses - What little girl doesn't love all of the whimsical Disney princesses? This is an easy theme for two girls because of all of the choices.

Pink & Black - Nothing is more bold than dramatic pink and black in prints like damask and polka dots. Mix and match with solids to make each baby girl's crib different while still coordinating with the overall nursery. Think mini chandelier for lighting!

Lavender & Pastel Pink - Probably the most popular color combo used for twin girls. We see this a lot in clothing sets as well as nursery decor. A princess or twincess theme works well with these colors.

BOY NURSERY THEMES FOR TWINS

Sports - Ideal for twin boys, you can use a different sport for each twin while keeping an overall theme for their nursery. Dad might enjoy this one too!
Farm Animals - Do a farm animal theme, but use a different animal for each twins' crib bedding. For example cows and sheep or pigs and ducks, etc.
Monkeys - This theme is cute for twin boys, but could also be gender neutral. It is a lot of fun with the whole Monkey See and Monkey Do thing that's so funny with twins.
DC Comics Superheros - With the right color in bedding all you'll need is a few accents in your choice of two superheros and your twin boys' nursery will be crime fighting ready! Just picture Batman (black/yellow) and Superman (red/blue) in the same room...Awesome!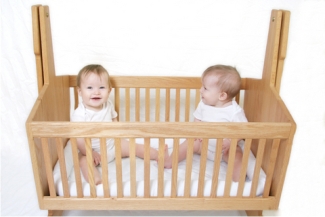 Beautifully designed and organized twin nurseries always begin with a theme. Whether you're picking out crib bedding, a set of crib mobiles to hang over a changing table, or stylish wall decorations that add an adorable accent to the room, it's best to stick with a popular print, color, or animal theme that ties the entire nursery design together.
Removable wall decals that stick to smooth surfaces are a great way to add charm to any corner of the room and are easy to move from wall to wall in case your nursery's style needs to be revamped once in a while. In addition to trendy prints and vibrant colors, the best twin nurseries incorporate a DIY feature such as a handmade monogram or baby name wall hanging. These high-quality wooden names and letters can be found at a local crafts store and decorated with your own creative skills.

Home

›

Plan a Twin Nursery
› Nursery Themes for Twins

More theme ideas...