6 Weeks Pregnant With Twins!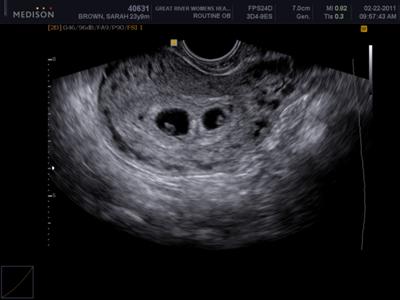 i am 6 weeks pregnant in this picture, we had our first dr. appt and they said that they wanted to do an ultrasound. I told my husband that i bet they find two... i had 3 different dreams that i was having twins but never actually thought that i would be pregnant with twins, there is no twins on either side of our familys. But to our surprise we had the ultrasound and the tech was taking pictures and not really saying much and it kinda made me worried and then she showed us the screen and said looks like you are having 2 babies! I couldnt believe it, we already have 2 boys ages 6 and 4 so i am definitely done after these 2 and hopefully i can get at least 1 girl. I am super excited!
Return to Ultrasound Pictures Of Twins 2010.