Resources for Twins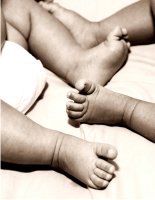 Resources for twins and their families is very important. We have put together this helpful list of the most reputable organizations, clubs, blogs, and informational sites that we consider great resources for parents and families of twins and multiples. We have a brief description of each site as well as a link.

Our Top Resources for Twins and Their Families

Multiples of America (a.k.a National Organization of Mothers of Twins Clubs (NOMTC)
This non-profit organization was founded in 1960 for the specific purpose of promoting the special aspects of child development for multiple birth children. They have tons of information pertaining to multiple birth, parenting, as well as research and conventions.
The Twins Foundation
This is what their Mission Statement states:
"The Twins Foundation is an international membership organization and primary research information center on twins and other multiples.
It serves twins, their families, the media, medical and social scientists and the general public through its publications, its National Twin Registry and its multi-media resource center. The Foundation was established in 1983 by twins to collect, preserve and communicate information about twins and other multiples and twin research. The Twins Foundation is a non-profit 501(c)3 organization. All contributions are deductible within legal limits."

Twin Resource Center
The TRC's primary goal is to raise awareness about the growing numbers of twins and provide educational training to other professionals, giving them the additional expertise to work with twins within their service offering.

Jumelle: Multiple Birth Education & Bereavement Support
This Web Site offers information regarding multiple births. It includes pregnancy and post-natal information and, from the point of view of new parents, it attempts to address some of your questions and concerns.
The International Twins Association
This association was organized by and for twins in 1934. They state that they are a non-profit, family-oriented organization to promote the spiritual, intellectual, and social welfare of twins and multiples throughout the world.

TwinsDoctor.com
TwinsDoctor.com is the first physician-authored website with health information exclusively for multiples. Founded in 2007, the site is hosted by Dr. Khanh-Van Le-Bucklin: a pediatrician, mother of twins, and author of "Twins 101: 50 Must-Have Tips for Pregnancy through Early Childhood from Doctor M.O.M.".

Babies In Belly!
Convenient, in-home prenatal classes for families expecting twins, triplets or more.

TwinsOnline
A helpful and informative site loaded with topics covering all aspects of twins.
Twins List
One of the older resources for twins and their families, their website is not the most up-to-date or organized. But, they boast members from all over the world and from all walks of life, brought together by one common bond: multiples. You can join the list and make your own posts and comments on a wide range of topics, from surviving bed rest, potty training twins, to separating them in school.

The Center for Study of Multiple Birth (CSMB)
This non-profit organization was founded in 1977 by identical twins, Louis and Donald Keith. They state that, "The three primary reasons for its inception were research, education, and public service. In our 28-year history, we have either published or supported the publication of numerous documents and books relating to multiple births."

Twin To Twin Transfusion Syndrome Foundation
One of the best resources for twins experiencing TTTS. They state that they are, "solely dedicated to providing immediate and lifesaving educational, emotional and financial support to families, medical professionals, and other caregivers before, during, and after a diagnosis of twin to twin transfusion syndrome.
Twinlesss Twins
This site provides a compassionate community for twinless twins to experience healing and understanding. They provide support for twins and/or multiples who have lost their twin due to death or estrangement at any age.

Twin Stuff
Twinstuff.com is a large community of twins and their families. They include a message board and and forum.

Monoamniotic Monochorionic Support Site
This web site is supported by volunteers and is specially for expectant and experienced parents of monoamniotic twins (twins that share the same amniotic sac). They offer information, experience, and hope to those who have just been diagnosed, to those who have already delivered but looking for others to relate to, and to those who have suffered loss due to this very rare and high-risk type of twin pregnancy.
Mother Of Twins
A site dedicated to parents of twins from conception to beyond. A Twin Pregnancy Calendar is also offered.

Twins Days Festival
The Twins Days Festival takes place every August in Twinsburg, Ohio. It's open to all twins and multiples, young and old. Families of twins and multiples are, of course, included. It's a fun way to connect with other twins and their families. You can register on their site and view tons of Twins Days photos, as well.
Books About Twins
Our guide to books for and about twins will take you through the different types available along with a few book reviews.

*Please keep in mind, external website links are listed as a convenience to our visitors. If you use these links, we take no responsibility and give no guarantees, warranties or representations, implied or otherwise, for the content or accuracy of these third-party sites.*
Home
› Resources for Twins