Twin Mom Seal of Approval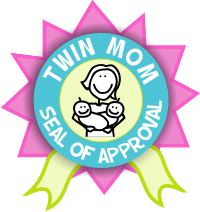 Our official Twin Mom Seal Of Approval is only awarded to deserving sites, blogs and products that are twin related or helpful to families with twins. They must meet all of the requirements listed below. If you think you have a qualifying submission, please fill out the form at the end of this page for our review. Check out some of our approved sites here.

Twin Mom Seal of Approval Guidelines:

Must be twin related or helpful to twins and/or their families.
Must have original content that offers quality information, products or entertainment that is helpful and/or engaging to parents who have or are expecting twins.
Sites and blogs must be well designed, easy to navigate and have a nice overall appeal.
Products must be helpful to twins and or their parents in some way, well designed, of good quality and safe.
Recipient Requirements if Awarded:

Sites, blogs or products that are awarded our official Twin Mom Seal Of Approval will be required to display one of our images that also links back to our homepage (*the HTML code provided must not be altered in any way).
The actual placement of our seal will be left to the discretion of the recipient. Although, we strongly recommend a prominent placement, as this will demonstrate to visitors that your site, blog or product has been awarded.
Please Read the Following Before Applying for the Twin Mom Seal of Approval:

The review process will be completed within approximately 1 to 2 weeks, but is not guaranteed.

If awarded, we will notify you via e-mail and send you a link where you can get the html code for one of our seals in the size of your choice.

We reserve the right to refuse the awarding of the "Twin Mom Seal Of Approval" without any obligation to the applicant. WE DO NOT NOTIFY APPLICANTS WHO DO NOT QUALIFY.

If you have not received an award within 30 days, you may reapply only if your original submission has some how changed in a way that you think may now meet our requirements.

*All of our images are under strict copyright and are never to be displayed or copied without our permission.