Double Duty
Log Book for Twins

by Kellie Asaro
I mention our Double Duty Log Book for Twins pretty often throughout our website, and for good reason. Most parents of twins, especially the new ones, will agree that the early months with twin babies can get so hectic and confusing.
Using a daily log book or other type of schedule for twins just makes life that much easier. When you need to juggle TWO little ones, AND you're sleep deprived (which all new parents are) you won't believe how quickly you will start to...Lose. Your. Mind.
---
Purchase a Full Coil Bound, 90 Day Twin Log Book for $15.95
Purchase Here
---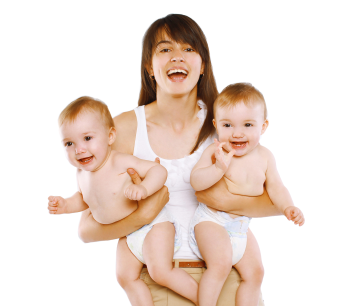 When my own twins were infants I remember having to write down notes for myself and making my husband take notes too. We used what ever paper was lying around because we hadn't even thought about needing to keep track. It was so much different than when we had our singleton daughter two years before. We thought we were so experienced...Ha!

Just try and remember who was fed when, how much, bottle or breast, etc. That's not even considering whose diaper was changed, how long each twin napped, did they have a bowel movement today? Who was it that had an upset stomach earlier? And the list goes on...

So, several years ago I decided to create a log book specially designed for parents and caregivers of twins. I researched page design and also took a look at what was currently available, which was almost nothing! I also asked other parents what kinds of things they would want in a twin log book.

Finally, when I came up with a layout that included all of the most important aspects of a twin baby schedule and that also had space for BOTH twins on the same page, AND it was easy to fill out, I knew it was ready for print and finally for sale.
The layout is simple and to the point with extra space for notes or anything else you decide you want to add (like appointments and/or reminders).

The log/schedule book that I designed for twins is packed with 90 days (3 whole months!) of pages for daily logging. It has a sturdy cover featuring our original stick figure twin mama with babies in gender neutral colors. It's also coil bound for easy access.
You can save your daily log book as a keepsake or just so you can look back on previous information for medical, feeding, or behavioral issues. Alternately, you can simply tear out and discard used pages as you go.
You will love the convenience of having a daily log book for your twins. Anyone can fill in the information making it great for parents and caregivers alike. It's totally affordable and gets great rave reviews.
You can purchase our full original coil bound, 90 day log book from Lulu.com and have it shipped right to your home.
---
Are you currently pregnant with twins? Don't forget to check out Two Due! a Twin Pregnancy Journal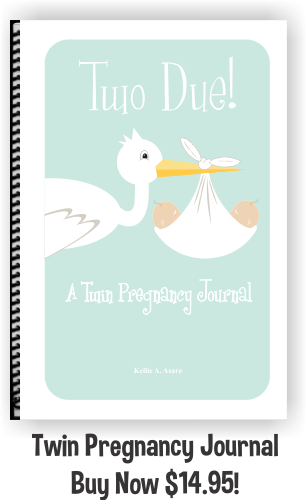 Home

›

Books for Twins
› Double Duty Log Book for Twins