Official Press Release For The
Julia Roberts
Celebrity Gift Basket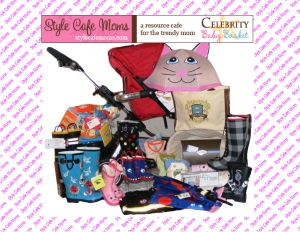 For Immediate Release

Oviedo, FL (July 31, 2008)

Contact: Kimberly Morales
Becky Ocasio
407-687-1543
info@stylecafemoms.com

Style Cafe Moms, an online "resource cafe for the trendy mom", strives to be the top online support system for business owners and those who have developed their own product and need affordable advertising and exposure. In addition to advertising, Style Cafe Moms offers boutique and product reviews as well as a shopping guide, recipes, celebrity dish and of course, the Style Café Moms Celebrity Basket. Style Cafe Moms, offering an array of services for a businesses advertising and promotional needs, however they still looked for more unique opportunities to promote the businesses that they represent, and with that the Style Cafe Moms Celebrity Basket was born – a venue allowing several businesses to receive extraordinary distribution and publicity. Style Cafe Mom's celebrity baskets are the ideal setting to launch a new product or create awareness of an existing product, by delving into the celebrity realm and offering businesses the opportunity to introduce their product(s) to some of the biggest celebrities. The recipient for Style Cafe Moms most recent basket was Julia Roberts. This basket included items not only for Julia, but for her children as well. The basket was a success for Style Cafe Moms as well as the numerous participants. Participating businesses included:


Western Chief - Westernchief.com
Chooka Boot - Chookaboot.com
Positively Organic - Positively-organic.com
Trends in Twos - Trendsintwos.com
Baby Planet - Baby-planet.com
Mommy Stars - Mommystars.com
Bibagogo – Isisunders.com
Sew Fab Designs - Sewfabdesigns.com
Style Cafe Moms offers many different PR opportunities and their baskets are available for awards ceremonies and celebrity gift bags/goodie bags.
---


Click here to go back to Twin News And Media

Click here to go back to Home Page