It's A Baby Girl!
It's A Baby Boy!
Book Reviews
You'll definitely want to read our informative reviews to find out more about these great books.
---
IT'S A BABY BOY!:
The Unique Wonder and Special Nature of Your Son From Pregnancy to Two Years
And
IT'S A BABY GIRL!:
The Unique Wonder and Special Nature of Your Daughter From Pregnancy to Two Years
Reviews by - Kellie Asaro

Did you know that newborn boys are less sensitive to sound than girls? Or that girls' brains are on average smaller than boys' brains at birth?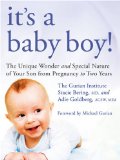 Well, when you find out you're expecting a boy and a girl, these things might be of interest. I always like new and interesting books on pregnancy and parenting, especially ones that offer a more, let's say, unique point of view. When I came across these two books (titled above), I thought how perfect they would be for anyone expecting boy/girl twins. They are definitely not your typical twin related titles, and would be a great source for any parent expecting a singleton boy or girl respectively. But, because of the distinct differences between boys and girls (and I'm not just talking anatomically) I believe these books could do wonders to prepare anyone expecting one of each, at the same time.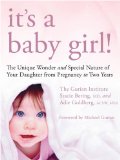 The books, as I will refer to them, put forward a more scientific look at how boys and girls develop, behave and react from inside the womb until the age of two. Coupled with some insightful blurbs from actual parents and packed with genuine facts, you will find the books easy to read and entirely intriguing. From how your baby boy's sense of taste works to your daughter's motor skills at play, there is a plethora of fascinating information that you have likely not come across in your average parenting book. If you really want to know what to expect from your son and daughter ahead of time, as well as the science behind their distinctive natures, I recommend you get your hands on both of these great titles!

About the Authors:
Stacie Bering, M.D. is a veteran medical doctor who specializes in obstetrics and gynecology and women's health in Spokane, Washington.
Adrienne Goldberg is a certified trainer for the Gurian Institute and an MSW specializing in women's health in Spokane.
Both are mothers with sons and daughters.

*Wiley books are available at your local
bookstore or by calling 1-800-225-5945.
In Canada, call 1-800-567-4797