Car Seat Guide for Twins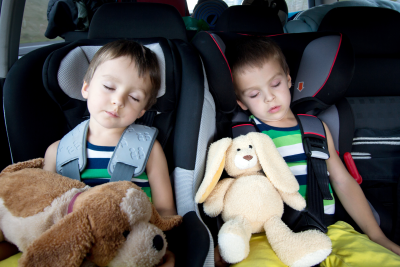 Our car seat guide will cover things to consider specifically for twins. A child's car seat is a crucial piece of protective equipment. You must have one to travel in an automobile. As a matter of fact, many hospitals require proof of your car seat (or two car seats for parents of twins) before you can take your new baby/babies home. And with strict government standards (especially in the U.S.) you can start to understand how vital this piece of gear is.

Travel System or Independent Car Seats?

So, where do you start? Well, you should first decide if you are going to use a travel system or independent car seats.

Travel System
This means a car seat that can "click" in and out of an attached base that stays in your car. These type of seats have sturdy carrying handles and can usually be purchased together with a compatible stroller for easy transitions.
This style can be especially handy during the infant/baby stage, as they are pretty versatile. You can keep sleeping babies in their seats when the car ride is over by disengaging from the base. The seat can be placed on the floor and rocked, keeping baby content. The car seat can also be attached to most grocery store carts when shopping.
They will generally work for the first year or until your child is around 22 lbs. Many parents with twins will want to go this route out of sheer convenience, despite the fact that they will need to switch to a convertible or age appropriate car seat after the first year.
Independent Car Seats
These car seats are attached to your car until your twins outgrow them. There is a HUGE variety of independent car seats available on today's market. Most will work for children from 5 to 40 lbs making them last for quite some time before needing to be replaced. You also can find the "all-in-one" type that can transition to accommodate infants up to youth stages.

This can be a benefit as you won't have to find a stroller or seats that fit together...Lot's more options! You will not need to get the additional car seats after the first year either which can be more budget friendly.
Car Seats for Smaller Cars When You Have More Than Two Kids

I finally found a great option for the dilemma of fitting three car seats across (for twins and another sibling) the back seat of an average sized car. When my twins were born I already had a 2 year and I didn''t think it would be possible. I figured we would have to get an SUV or a van.
I really liked driving a smaller car, so after some research I found a manufacturer that produced very narrow car seats to help with this issue. Their seat, at the time, was called Sunshine Kids Radian Convertible Car Seat (I believe they are now made by a company called Diono).
You can actually fit three across the back seat of a Toyota Prius! But I found that two of them along with my older daughter''s Eddie Bauer (it was huge) fit perfectly across the back seat of my BMW 530xi. In the photo shown above is the Eddie Bauer seat in the middle of my two Sunshine Kids Radian seats.
The other feature, and probably the most fabulous one, is that these particular car seats fit children from 5 to 80 lbs! They can be rear or forward facing, have five point harnesses, and come in some nice color options. Technically, it is the only car seat you would ever need.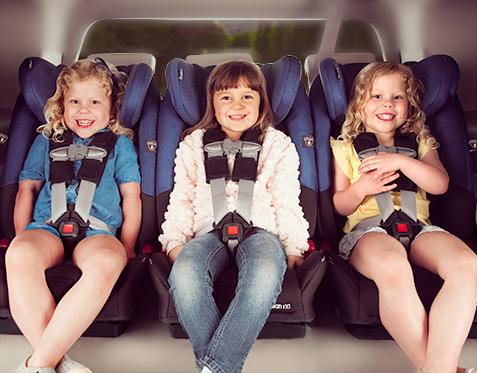 Thanks to its exceptionally slim profile, the Diono Radian RXT can fit 3 across in most mid-size vehicles.
At the time that I originally wrote this section back in 2008, these car seats could be found readily at retailers like Walmart, Target, etc. But now in 2017 they appear to have been taken over by another manufacturer, though they look very similar. I recommend doing a search for "Diono Radian Car Seat" on the web for help in finding where to buy. I have my Amazon.com picks below too!
Whichever type of car seat you decide on, I would definitely recommend a five point harness opposed to a three point, as it provides a more secure ride.
Home

›

Gear Guides
› Car Seat Guide