Choosing a Doctor or Midwife
for Twin Pregnancy and Birth

Choosing a doctor or midwife for your twin pregnancy and birth will surely be something to consider when you find out you're expecting twins. This brief article will help you on your way to making the right decision.

Choosing a Doctor

You may already have a relationship with an OBGYN, but you will want to find out what their experience is with twins. Twin pregnancy is still considered "high risk" in the medical community. Although, due to the increase in twin births, numerous obstetricians are now very experienced in this area. You will need to balance the doctor's experience with your particular pregnancy and preferences. If you have significant complications you will likely be referred to a perinatologist (a doctor who specializes in high risk pregnancies).
You should be sure to talk to your doctor about your expectations, especially about how you want to birth your babies. Ask what their policies are on C-sections and/or VBAC (vaginal birth after C-section). How far will they let your twin pregnancy progress until recommending induction? Do you plan on having an epidural or avoiding one? What are your feelings on the use of forceps, suction, or episiotomies? Will you be allowed to deliver vaginally if one or both babies are not in a favorable position? Will you have to deliver in an operating room?

These are just some of the more pertinent questions to ponder. You may have to talk to a few doctors before you find the right one for you. Ultimately, the outcome will go much more smoothly if you and your doctor have a good rapport, and mutual understanding of expectations.
Choosing a Midwife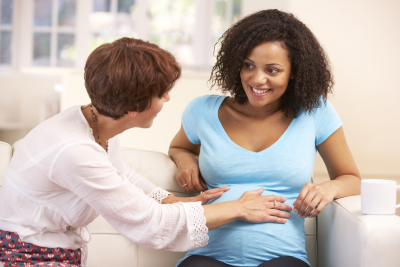 Some women carrying twins will opt for a midwife as their primary caregiver. A midwife is someone who has modern medical knowledge, but applies a more intimate and traditional approach when dealing with pregnancy and birth. They generally offer a more personalized experience by letting mothers take the lead in decisions regarding their situation.
There are different types of midwives from Certified Nurse Midwives (CNM) to Certified Professional Midwives (CPM) and some who choose not to get a certification at all, so be sure to do your research.  Here is a great article choosing a doctor or midwife...

Midwives are the common choice for women that want a natural or homebirth with twins. While most will work out of birthing centers or be based out of a hospital, some will, indeed, assist you in your own home.
Finding a midwife for twin pregnancy might be harder to come by depending on where you live (not as many choices in rural areas). You will want someone suitably experienced in twin pregnancy and birth. And if you are opting for a home birth of your twins, you will likely be in need of two midwives as well as a knowledgeable pediatric nurse. If you plan on a natural delivery in the hospital, your midwife can usually assist you there just like a regular doctor would. If you suffer from too many complications (think preterm labor), a midwife and/or home birth of twins may not be in the cards. There are a number of personal stories of natural, home births of twins out there on the web. So be sure to do a search and read the experiences that other women in the same position have had. They are quite inspiring.
*We have an amazing story of a freebirth with unexpected twins that you won't want to miss!
A video about Urban Midwifery

With either choice, try to remain flexible in your birth plan. Sometimes complications can crop up most unexpectedly with twins. Always ask lots of questions and gather the appropriate information regarding your unique pregnancy to make the most informed decision.
Home

›

Twin Pregnancy
› Doctor or Midwife