Twin Diaper Bags

The Best Diaper Bags for Twins
There are some really great twin diaper bags available on today's market that have been designed specifically with twins in mind or parents of multiple children.

We will be talking about several different options when choosing a diaper bag for twins. We'll go over pros, cons, and pricing of the top picks for the best diaper bags and totes to use for twins and hopefully lend some insight to those parents wondering which twin diaper bag will suit their family and their budget.
Deluxe Duffle Style Diaper Bag by Trend Lab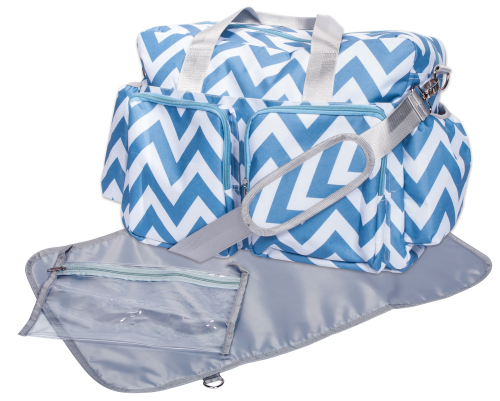 Deluxe Duffle by Trend Lab
The Deluxe Duffle by Trend Lab is one of our absolute faves! It's one of the few diaper bags on the market that includes fashion, function, AND great pricing all together.
First off, this bag is LARGE without being too cumbersome. It can be carried by hand or over the shoulder, has lots of pockets (inside and out) along with bottle pockets, and it can easily be wiped clean.
Add in the detachable stroller straps, a bonus "dirty duds" bag, and changing pad and you really won't want to use another bag.
Available in many trendy prints for around $59.99.

TWiiN GEAR Diaper Duffle Bag Sets

Some of the biggest bags ever! If you really want a diaper bag with space, these have it with room to spare.
Their larger "duffle style" size is super handy for weekend or overnight trips, but would also function perfectly for day-to-day because of the additional smaller bags included with these sets.
The spacious center compartment can hold all sorts of things from clothing to diapers and toys, while the handy exterior pockets can be utilized for bottles, pacifiers, wipes and smaller items.
If you're on the go you can simply leave the large diaper duffle bag in the car and take one of the smaller coordinating totes with the basics. We love this concept!

The detachable shoulder strap is a life saver when your hands are full...which they usually are with twins!
Because of it's versatility, this might be the only twin diaper bag you will ever need. Pick one up for around $49.99 to $69.99 depending on the model.
The Skip Hop Duo Double & Duo Signature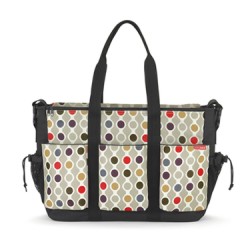 If there's one thing these bags have, it's storage pockets. Although the Duo Double was designed specifically for a double (side-by-side) stroller, you don't have to have one to use this bag.
The Duo Double's 3 outer pockets can fit a full-sized bottle or diapers in each and feature magnetic buttons to hold them shut. One front pocket has an elastic slot for pens and your mobile phone, and two mesh pockets on the outside are ideal for bottles or drinks. The changing pad is tucked away neatly in the rear aside another smaller pocket that will fit a wipes case perfectly. As for the zippered interior? You could probably squeeze a laptop, a six-pack, and two-weeks worth of clean clothes into it and still have enough space left to get at the diapers in the mesh pockets. Quickly.
*Note: Best to not over-stuff this bag when hanging it from a stroller. Too much weight will pull down the handles of your stroller, possibly causing it to tip over if you let them go. You can get a Duo Double Diaper Bag for around $99.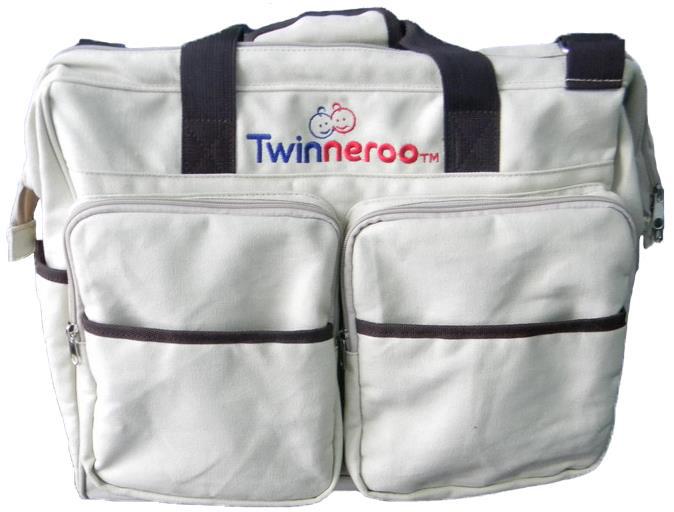 The Twinneroo is the diaper bag especially designed for twins by a twin mom herself. This spacious diaper bag contains two separate compartments that allows you to easily divide lotions, diapers, medication, bottles and more. This diaper bag comes with two inserts (one khaki and one dark brown) that come out of the bag completely for easy organization. The Twinneroo measures 17.5"L x 14.5"H x 8"W. It's unique design allows the bag to stay open while you search. Changing pad included. You can grab your Twinneroo for around $129.
Other Great Choices For Your Twins Diaper Bag

Dual Interior Twin Diaper Bags

Trends In Twos™ offers these bags in a variety of colors and prints. Although they are an average sized bag, the dual interior makes them ideal for twin babies.
There's a zippered pocket right in the middle that acts as a divider so that you can put each twin's stuff in its own section. The bags are pretty roomy without being cumbersome. They include nice sized interiors and lots of extra pockets for bottles, your cell phone and more. Stylish prints are made from soft quilted cotton with coordinating changing pad included. Starting at just $39 you will find function and fashion.
The Original Twin Carry-All Bag With Swarovski Crystals

This charming twin diaper bag/carryall has been around since 2007 and was designed by our sister-site Trends In Twos. It really functions more like a big carryall than a "diaper bag" per se. It lacks the many pockets and some other elements compared with the diaper bags mentioned here. Still, it holds a ton of stuff, as you can see in the picture.
Size wise, it is comparable to Skip Hop's Double Duo (scroll down for that review). It has a waterproof lining for easy cleaning and is treated for stain resistance. The best feature, and the one that really sets this bag apart from the others, is that it has genuine Swarovski crystal embellishments AND it was included in a celebrity gift basket for good ol' Julia Roberts back when she was a new twin mom.
You will not see this design anywhere else, as it's made exclusively by Trends In Twos™. This diaper bag for twins would be a great choice as a spare or your "dress up" bag considering it's glamorous, sparkly design. It will run you $59 because of it's custom design....each is hand embellished when an order is placed making them truly unique.

Shown here is a sample of the exterior and interior - though it doesn't do the crystals justice as they are soooo sparkly in real life!

Separate Diaper Bags or Totes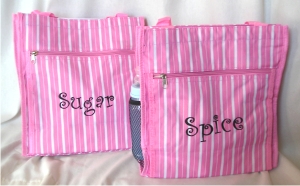 Remember you can always switch to two separate diaper bags as your twins grow in size and individuality.

Having the capacity and flexibility of two separate diaper or tote bags is a handy alternative when you have your babies going to two different places or on an extended trip. Or you might want one large diaper bag and an additional carryall or tote for all the extras.
*Please note: Sometimes manufacturers discontinue products and/or change their prices without our knowledge. Additionally, we have not been paid to talk about any of the products mentioned, though some items may be purchased through our sister site, Trends In Twos, or may be purchased through an affiliate site which earns us a small commission. This guide is essentially for your information and convenience.
Home

›

Gear Guides
› Twin Diaper Bags