Twin Sleeping Schedules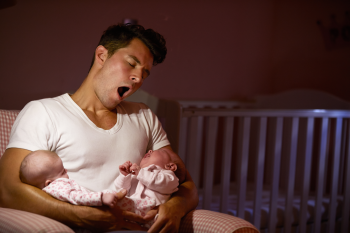 Twin sleeping schedules can definitely be an agonizing subject frequently during the first year with twins. Much like feeding schedules, most parents will try to enforce some kind of routine. Also, much like feeding schedules, this may not always work!

To save your sanity and get some rest yourself, try to put into practice a sound sleep routine as soon as your twins are born. This generally works well following a feeding and/or play time for naps and a feeding and/or bath for bed time. Many parents will consider letting their babies co-sleep during the early months which often seems to help. You will have to be dedicated to keeping the routine if you want it to be successful, but it will be well worth it.

Most children fall into a steady routine without too much difficulty. But, each child is different, and you are managing TWO! So there will obviously be some challenges. It goes without saying that parents and caregivers will have to implement the  techniques that work for them and the twins they care for.
Generally, the more you are able to keep twins on the same eating and sleeping program, the easier it will become. There will always be good days and bad days when it comes to sleeping though! Sometimes one will fall asleep only to find that the other is just waking up and vice versa. Just remember, this stage won't last forever. And yes, your twins will eventually sleep through an entire night!

Be sure to take a look at our helpful Twin Crib Guide for ideas on twin sleeping arrangements!
Author Susan Heim On Twin Sleeping Schedules

Twin Sleeping Schedules Tips & Quotes

from Actual Parents
Quotes:
"Having my twins in the NICU for a month was grueling. But boy, those nurses got them on great sleep schedules that continued even when we brought them home...What a help!"

"My twins actually went to sleep much easier than my singleton ever did. I think it was the comfort of being together in the same room that helped."

"I always found that my twins fell asleep a lot better after some type of physical activity - like time on their tummies or even a stroller ride around the neighborhood."
Tips:

As your twins get a bit older try giving a larger meal before bedtime to help with getting them through the night without extra feedings. It will seem like heaven when twins finally both sleep an entire night!


The scent of lavender has been found to be especially calming for sleep time in babies as well as adults. Try using a lavender scented baby lotion and/or baby wash just before bedtime to help soothe and quiet little ones.

Home

›

The First Year
› Twin Sleeping Schedules

More help with sleep schedules for multiples...