We Wanted Two More and Got Them...All at Once!
by Rachel Redlightning
(Nebraska )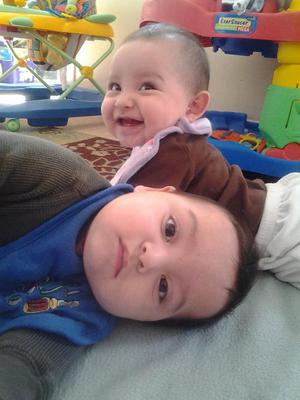 Our b/g twins at 6 months! Our boy looks very happy to be in the picture, while little miss is Sunshine as always lol!
My husband and I had a boy and a girl already and thought we wanted two more kids before I finished college in December of 2014. We thought, well lets have one now and then one after I get done with school and was working.

We got pregnant in September. I had a feeling there was something different because I was so past tired all the time and had morning sickness, which I never had before. I had a hard time staying awake and keeping anything going such as homework.

Well, at 12 weeks the doctor said she couldn't find a heartbeat so she sent us to the hospital for an ultrasound. We thought all night that we had lost our baby and we were ready for bad news. I went to the ultrasound and as soon as the tech had the image on the screen I saw three big black spaces, I knew one was my bladder (she said for it to be full and it was) and the other was my uterus and was so lost on the third. So she had me use the restroom without saying anything then back on to the ultrasound and then clear as day 2 babies!! My husband was unable to make the appointment due to work so I had news of a lifetime!

During the next ultrasound the tech told us that baby B had a wide neck and that was a sign of a genetic issue. Of course we were worried and had to wait three weeks to see a specialist, which they cleared baby B. Then again at 6 months they said baby B had something wrong with his brain growth and once again we were off to the specialist. They cleared baby B again and we were so happy!!!

On June 5th of 2013 I had one (no joke one) contraction at noon and nothing after that, I was 36+6 weeks along. I told my husband about that one contraction and losing my plug for about the 20th time it seemed and he said let just go to the hospital and make sure and we did. I am glad he got me to go because our closest hospital is 30 minutes away and I was in active labor and didn't even know it.

We had one last ultrasound to see if baby B had moved and he had not so we went for the C-section and had our daughter at 10:42 p.m.. She was 6 pounds, 6.5 ounces. Her brother followed at 10:43 p.m. and he was 7 pounds, 5 ounces!! He was in the NICU for a week and me and his twin sister came to see him and my husband everyday while they were in the NICU. He was having issues breathing and eating but is all better now and is a huge 20 pounds at 6 months old and his sister is a little miss at 17 pounds!

I guess we got what we were asking for just all at once :) They are such great babies and have made this whole twin parent experience easy on us:)
Join in and write your own page! It's easy to do. How? Simply click here to return to Personal Twin Stories From Our Visitors.