Twin Nursing Pillow Guide

a Great Way to Feed Twins
A comfortable twin nursing pillow will surely help when feeding twins (together or separately). Not to mention, dad, grandma, or other helper can use it too for bottle feeding too. We have currently narrowed this list down to just two. Over the years different models have come and gone, but the top two nursing pillows for twins that have stood the test of time are listed below. Read on for more detailed information on the most popular choices.

*Please note that we do our best to post the most current prices and models, however the manufacturers and/or stores selling these items may change their prices or models at any time.

The TwinZ Twin Nursing Pillow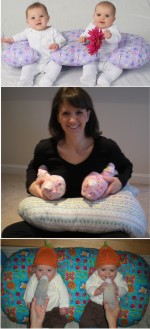 A pillow with a lot of versatility, the Twin-Z is another great twin mom invention. To use for breastfeeding just tuck one side down and the large surface provides a firm area to nurse your twins. Alternately, leave the side out to have an extra holding area for one baby while you nurse the other. For bottle feeding the Twin-Z easily supports two babies while you support their bottles.
As babies grow they can lay on the pillow and hold their own bottles. The Twin-Z can be used for tummy time, sitting up and playtime too. It also features unique snaps to close the ends of the pillow to keep small babies in the pillow snugly. There are a variety of prints to choose from. Get your own Twin-Z for about $99.99.

The San Diego Bebe Twin Nursing Pillow

The San Diego Bebe was designed GREEN for a new generation of eco-minded mothers and their babies. San Diego Bebe is a deluxe privacy pillow, offering support, comfort and discretion... for both mom and twins, anytime - anywhere!
Made of baby-safe, patented eco-fiber that is hypo-allergenic, non-toxic, non-flammable (no fire-retardant chemical additives!), and is recyclable, odor-free, glue-free, foam-free, lead-free and Phthalate-free. Available in super-soft plush fabrics in a variety of colors and prints.

This pillow really helps to emulate the position of how a mother brings a baby to breast in the bend of her arm. The angled top surface allows you to bring your babies to the pillow and position them on their sides so they are facing you. When nursing, a baby should never be placed on a flat surface because then he'll have to turn his head sideways to meet the breast. Not only is that position uncomfortable but it also impedes the natural swallow reflex and digestion. The perfect solution for breastfeeding twins. You can order one for around $69.
Home

›

Twin Gear Guides
› Twin Nursing Pillow Guide