Kelly Damron

Featured Mom Of Twins ~ March 2009 1) WHAT IS YOUR BUSINESS?

a) My blog mainly discusses infertility and premature birth, however, I'm in the process of changing the focus to be more about patient empowerment. I'll provide tips, advice, and ideas on how individuals can work with their physicians using a teamwork approach.
b) My website www.twinpeas.com offers resources on infertility and pregnancy, but it also displays my book Tiny Toes: A Couple's Journey Through Infertility, Prematurity, and Depression as well as my public speaking topics.

2) HOW DID YOU DECIDE ON THIS BUSINESS?
a) I fell into the topic through personal experience. My husband and I experienced male factor infertility so the only way for us to have a biological child was in vitro fertilization. I'm sure some people reading this might be saying, "Why didn't you just adopt?" and while I was open to the idea, my husband was not. Adoption is a great thing, but it's not for everyone.
b) A few friends of mine encouraged me to write Tiny Toes because I had grown so much from the experiences of infertility and premature birth. From there I've been finding my way as to what message I really want to share with the world. I realized that although the topic of infertility will always be a part of me, if I can help other people get through this medical crisis then I've done a good thing with my life and my time.

3) WHAT DO YOU ENJOY MOST ABOUT THIS BUSINESS?
I enjoy the community and support from women who have had similar experiences. However, what I enjoy most is talking with nurses about my experience and to see them transform the way they practice medicine. It's amazing to watch the growth in their compassion in just sixty minutes! In this instance, I'm not just helping one person at a time, I'm helping multiple people at once because each nurse will touch all of their patients with a new found appreciation of the patient perspective.

4) DO YOU WANT TO TALK ABOUT ANY SPECIAL PROMOS, PRODUCTS, DEALS OR OTHER TOPICS?
For each copy of Tiny Toes purchased either through Amazon.com or twinpeas.com I donate $1 to the March of Dimes. In addition, if a Twin Pregnancy And Beyond reader wants to purchase a copy of Tiny Toes, they will receive a $1 discount per book. In the "Autograph Instructions" box type 'TwinPreg' to qualify for the $1 discount.

5) TELL US A BIT ABOUT YOU, YOUR FAMILY, YOUR TWINS AND HOW YOU MANAGE IT ALL.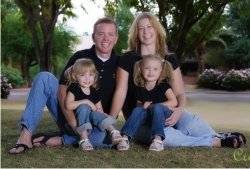 a) I work from home, trying to make a living by following my passion. It's taken a little longer than I had hoped, but I make family a priority so that is the way the business stuff goes. I love to hike, go on walks, and spend time with my girls and hubby. Truly, I'm happy when I can spend quality time with my family. It something I treasure each and every day!
b) My husband is very supportive and he makes me laugh. We keep our marriage strong by working together as parents and as a team in all aspects of our lives.
c) My twins are beautiful 4 year olds. Their similes are infectious and they have the most gorgeous blue eyes. They love to dress up as princesses and eat ice cream (I think they got that one from me).
d) There is definitely a balance between career and family. I've been more interested in family balance than work lately. I know that I am more appreciative of time with my girls because they are in daycare 3 days per week. The time way gives them the ability to make new friends and learn in ways I couldn't teach them in a home-schooled environment. And it allows me time to stay engaged in the business world and challenge my mind. We make evenings family time and the weekends are family focused too so that we have a good time together even if it's going to the grocery store.

6) ANY ADVICE OR INSPIRING WORDS FOR OTHER MOMS?
Being a mom of twins can be both exciting and challenging. I tend to encourage my girls to be individuals, especially since they are fraternal, not identical, twins. Determine the best parenting approach for you and run with it. If you like to dress them alike, then do so. If you don't want to, then don't. Remember that you are always making decisions and choices that you think are best for you and your family. Don't worry about what other people say. Enjoy your twins and your family time because they grow up way too fast!

7) HOW DO OTHERS CONTACT YOU FOR MORE INFORMATION?
You can reach me anytime via email at info@twinpeas.com. I'm also on Facebook and Twitter (@tinytoes).


---