Grab Your Member Badge

If you've joined our exclusive social network for parents of twins at
My Twin Pregnancy And Beyond
,
please feel free to grab a member badge for your blog or Web site!
Images are offered in different sizes and formats to suit your needs. Simply copy and past the corresponding html.
Don't see a size here that works?
Contact us
and we'll make you a custom size.
*
These images are provided for the use of our members only. If you are not a member, you may NOT use, copy or post any of the images below. If you would like to become a member, you can Join Here. Thank you.
---
JPG file - Image size - 200 x 132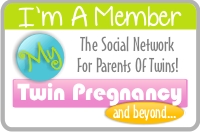 ---
JPG file - Image size - 150 x 214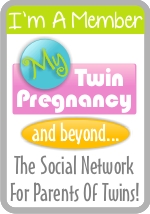 ---
JPG file - Image size - 130 x 143

---
JPG file - Image size - 100 x 110

---
PNG file with transparent background - Image size - 120 x 132

---
PNG file with transparent background - Image size - 200 x 132