Bringing Twins Home From the Hospital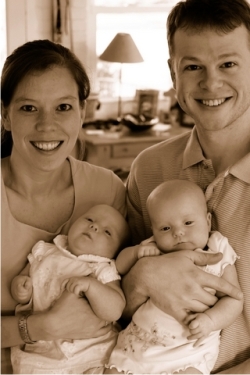 Bringing twins home from the hospital is something you can and should prepare for. It may seem daunting, especially to first time parents. But, with a little extra organization and forethought you'll have one (or should I say two) less things to worry about.
Now, we're not talking decorating a nursery or buying furniture and supplies here. That stuff should be addressed in the early half of twin pregnancy ( see our guide). What you need to be thinking about is having the house in good working order for a nice transition from the hospital to home. The day has arrived and twins will be coming home soon, so let's get started!

Tips on Bringing Twins Home From the Hospital

Prepare Layette And Baby Supplies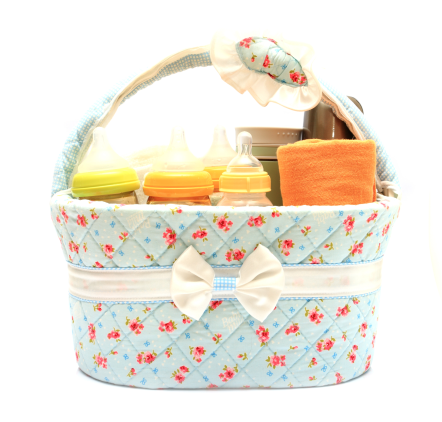 Be sure that all newborn clothing, blankets, burp cloths, etc. have been freshly washed and put away or stored where they will be easy to access. Remember, you will have two babies coming home, so the more fresh clothing you have the more time you will have before you have to do the laundry.
I also recommend creating a diaper changing "basket" or "bucket" (or maybe 2 or 3 for upstairs/downstairs, etc.). This is basically any container that can be easily transported around the house. It should include everything you need to change a diaper, like powder, diaper rash ointment, wipes and, of course, diapers. Some moms find it handy to include hand sanitizer, a fresh set of clothing, and even your cell phone. Anything you use regularly throughout the day should be under consideration, as this is a simple way to stay organized while caring for your newborn twins at home. It will keep you from having to run to the nursery every time someone needs a diaper change...which will be ALL the time!
Try to leave the house as clean and orderly as possible before you go to the hospital. This does not mean do the vacuuming while you're having contractions! Just do the best you can to have things neat and tidy before the time comes. Get the laundry done, buy groceries, stock the bathroom, take the rubbish out,etc. The less you have to think about doing around the house the more time you'll have to adjust and get to know your newborn twins.

Have Food & Prepared Meals On Hand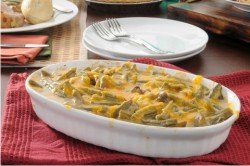 This may be the last thing on your mind, but thinking ahead in the food department will save a lot of hassle when hunger strikes. Frozen foods from the grocery store are particularly handy. Otherwise, think about making easy-to-freeze homemade foods, like lasagna and casseroles that can be stored for heating later. Crock pot recipes that require minimal prep time are also something to consider. Having fresh bread and cold cuts on hand for sandwiches is a simple idea too. Just make a list of the things you and your family like and stock up ahead of time. Don't forget the baby formula!

Get On Schedule And Keep Tract
One of the first things you should do after bringing twins home from the hospital is get them on a reasonable schedule. If your babies had a stay in the NICU they may already be on an efficient feeding and sleeping plan. Either way, most parents of twins agree, life will be much easier if you can regulate feeding and sleeping times. Having a notebook or dry-erase board is a practical way to keep tract of each twins feedings, nap times, diaper changes and even when medication (if any) was taken. This will not only help you keep things straight and give you some time for yourself, but is beneficial to anyone you have lending a helping hand. It gets confusing having twins!
Accept All The Help You Can Get
You hear this a lot when you're expecting twins, and it really is true. If you have people willing to help in any way, accept it! Just be diplomatic about designating each chore. It may be easier for one person to pick up things from the store and for another to help with cooking the meals, doing laundry, etc.
One of the truest things I ever heard a new mom of twins say was, "I don't need as much help with my babies as I do with the house, errands, and cooking". Keep in mind, you'll get on your feet eventually and won't be needing as much support as you acclimate to life with twins. There are even those of us who have, indeed, survived without the extra help...It is possible!
Plan Care Of Other Children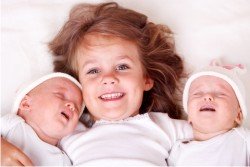 Twins will not be the first parenting experience for some of us. Numerous families already have one or more children before the arrival of their twins. Definitely something to think about when bringing twins home from the hospital.
School age children will need to have transportation and extra curricular activities worked out. Younger children will likely be curious and needy of your attention. Setting aside special time for older siblings (whether it be with you or another family member) is a must. You should organize any transportation as well as set up family and/or friends for outings with older children. Remember, they will need their own time to adjust to the newest additions. The less impact on their usual schedules the better.
When One Twin Comes Home First
This scenario will happen for many parents of twins, especially parents of preemies. One twin will be discharged from the hospital while the other has to remain. Not ideal, to say the least, but a possibility. In most situations you will have a bit of lead time to prepare, as doctors can usually give a ball park estimation on when a baby will be ready to leave the hospital.
You're going to need a adequate plan in place for taking care of one twin at home while still having time to visit the other in the NICU. Some parents simply trade off and there's not much to worry about. For others, there may be much more to contend with like, distance from hospital to home, dealing with older siblings, work schedules, breastfeeding and so on. If you know you will need help with a situation like this, be sure to have an alternate plan just in case.
Home

›

Prepare for Twins
› Bringing Twins Home From the Hospital

More tips on bringing twins home from the hospital...